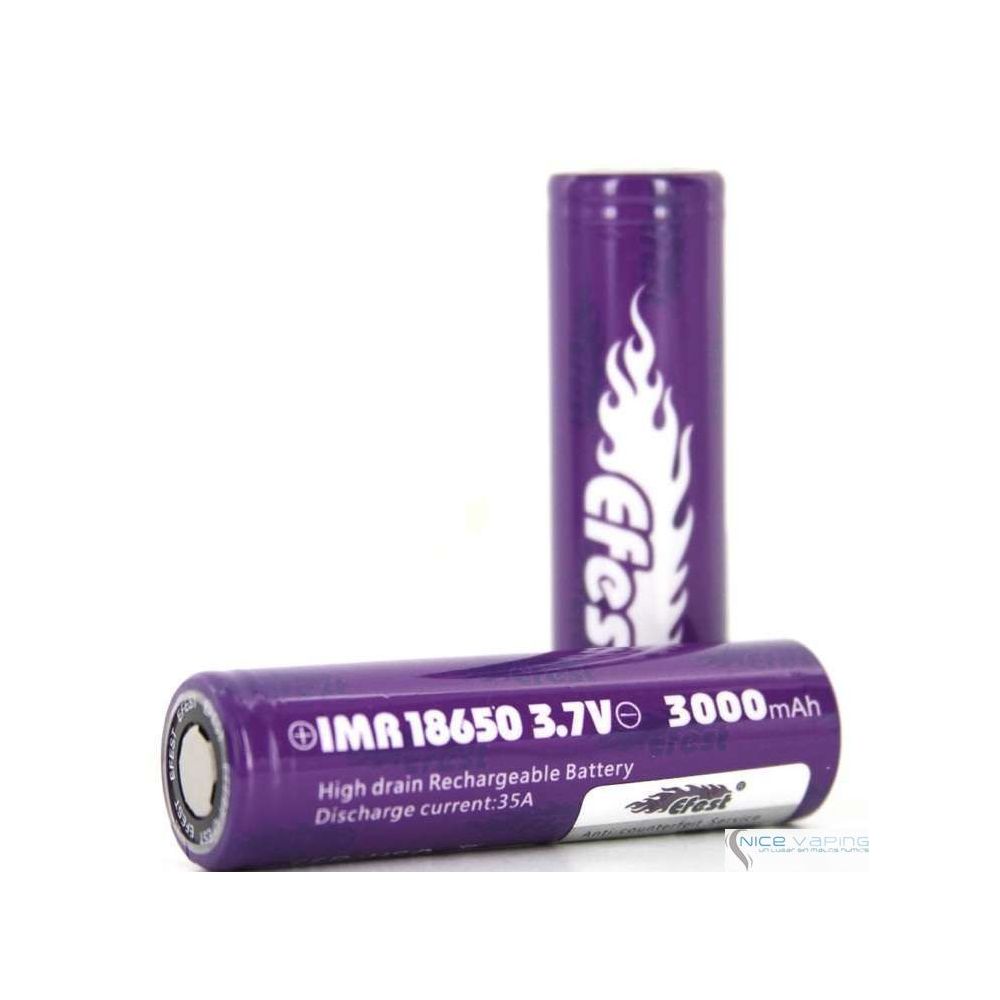 View larger
Efest 18650 Flat Purple 3000mah 35A
G4-Efest 18650 Flat Purple 3000
New product
EFEST 18650 Flat Battery Purple. Discharge current of 35 Amp and capacity of 3,000 mah for the newest high performance mods.
This product is no longer in stock
Warning: Last items in stock!
Availability date:
By buying this product you can collect up to 28 loyalty points. Your cart will total 28 loyalty points that can be converted into a voucher of MXN $ 5.60.
More info
The Efest Purple Series IMR 18650 2100mAh 38amp Flat Top Batteries are the newest Efest 18650 series catering to serious vapor chasers.
Unitary Price per battery.

- Manufacturer: Efest
- Size: 18650
- Model: Efest 18650 35A
- Type: Li-Mn (High Drain)
- Rated Capacity: 3,000mAh
- Nominal Voltage: 3.7V
- Peak Voltage: 4.2V
- Cut-off Voltage: 2.5V
- Dimensions: 18.2mm (Diameter) x 66mm (Length)
- Rechargeable: Yes
- Discharge rating : 35A
- Chemistry: Lithium manganese Dioxide (Li-Mn02)
- Style: Flat Top
- Color: Dark Purple
- Rated Capacity: 3,000mAh

IMPORTANT:


Fully charge before first use.
Never short (connect positive and negative size) battery.
Keep them always in battery case, or any other insulating material.
Never keep this battery together with metal objects (short circuit can happen if you do).
Never carry bare cell in your pocket with keys, change or any other metal objects.
To ensure your safety and maintain the battery's life and durability, we recommend you follow these rules:

Do not over-discharge or overcharge the battery. Doing so will shorten the battery's life and sometimes, it can make it pop or leak.
Please do not short circuit or it will release massive current.
Do not play with fire! Do not dispose any kind of battery in or near any fire.
Do not stack more than one battery as it may potentially blowout and cause serious damage to yourself and place. Notes: We do not recommend stacking more than one battery in your device because it may potentially blowout and cause serious harm.
Note: There is always an inherent risk when using any rechargeable batteries at anytime and under any circumstances. ElementVape.com and any of ElementVape.com's parent and subsidiary companies are not held responsible for any damage for any modification of the batteries, chargers, devices and other products that we carry in any form or shape, this is including pack making.
When working with Li-ion (Lithium-ion), LiPo (Lithium-ion Polymer) and any rechargeable cells, please be cautious and carefully use as they are very sensitive to charging characteristics and may explode or burn if mishandled. Please make sure that you have great knowledge on all rechargeable batteries before you use them. Always charge batteries at the clean and fire-proof surface. Never leave charging batteries unattended. If you see that there are visible damages on the batteries, please do not use. Always keep, store and transport the rechargeable cells in a safe, non-conductive container in controlled environment

Do not use any rechargeable battery as well as any battery charger if any visible damage is present, as well as if the cell or charger has been stressed through mishandling, accidental or otherwise, even if damage may not be visible. Always store and transport rechargeable cells in a safe, non-conductive container in a controlled environment. Please dispose battery cells, chargers or any other electronic devices in accordance of local laws and mandates.