STICK X8 KIT -

THE TOP AIRFLOW

Stick X8 is the newest pen style starter kit from SMOK, which brings the user experiences to the top

level of this kind. The kit owns a battery of 3000mAh super high capacity and 20amps continuous

discharge capability, the tank it included is the powerful TFV8 X-baby tank, which has a capacity of 4ml

and a creative top airflow system. You can enjoy rich flavor and massive clouds with it. Besides, its

swivel top cap design is convenient to refill. Innovation keeps changing the vaping

experience!

Smok is leading the resurgence in "pen" style devices by delivering top quality battery and tank options that offer exceptional power, performance, and features with a more convenient footprint than a typical box mod based setup. The Stick X8 is no exception. Upon first inspection, the Stick X8 bears a distinct resemblance to its direct descendant, the Smok Stick V8.

However, upon closer examination, some key enhancements have been added which should make a pen-style device more appealing to a wider variety of vapers. Featuring a 3000 mAh internal battery, charged with the included Micro USB cable, the Stick X8 guarantees plenty of performance as well as time vaping between charges.

The single button design keeps things simple by functioning as a power button, activation button, as well as an intelligent battery life indicator. The rugged, durable, and ergonomic device includes a comprehensive suite of onboard safety features to make sure that you, and the device itself, are protected against short circuits, low resistance coils, and low battery voltage.

Perfectly suited to the Stick X8 device is the dynamic TFV8 X-Baby Beast Brother which shares similar features with its direct descendant, the TFV8 Big Baby Beast, with one marked difference.

What sets the X-Baby Beast Brother apart from the rest of the TFV8 family is that the architecture of the tank has been completely redesigned to position the generously sized adjustable airflow ports at the top of the tank. This drastic repositioning provides highly responsive airflow which increases performance while enhancing the overall experience.

With a 4 ml liquid capacity, rock solid construction, and the conveniently hinged top fill system, the X-Baby Beast Brother clearly demonstrates its TFV8 lineage. If you have been looking for an excellent vape pen that delivers simplicity, convenience, and top-notch performance; achieve your goals by adding the Smok Stick X8 Kit to your cart today!
Smok Stick X8 Package includes:
Stick X8 device
TFV8 X-Baby Beast Brother tank
X-Baby M2 0.25 ohm dual coil atomizer head
X-Baby X4 0.13 ohm quad coil atomizer head
Micro USB cable
Smok vape band
Spare parts kit
User manual
Smok Stick X8 specifications:
Built-in 3000 mAh battery
Single button interface
Micro USB port
Intelligent battery life indicator
Comprehensive on-board safety suite
TFV8 X-Baby Beast

specifications:

4 ml liquid capacity
24.5 mm diameter
Top airflow design
Convenient hinged top fill system
Insulating delrin drip tip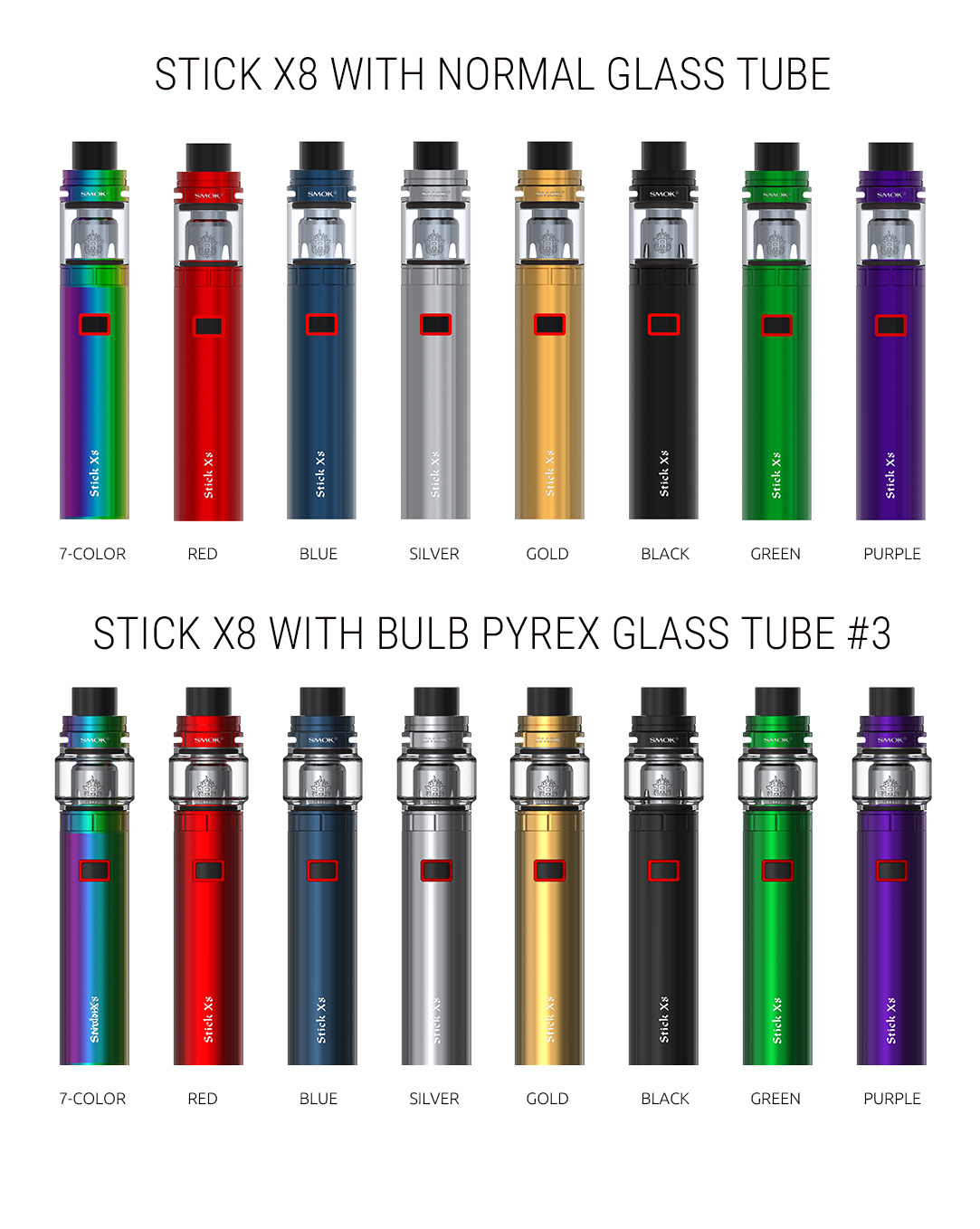 THE KIT INCLUDES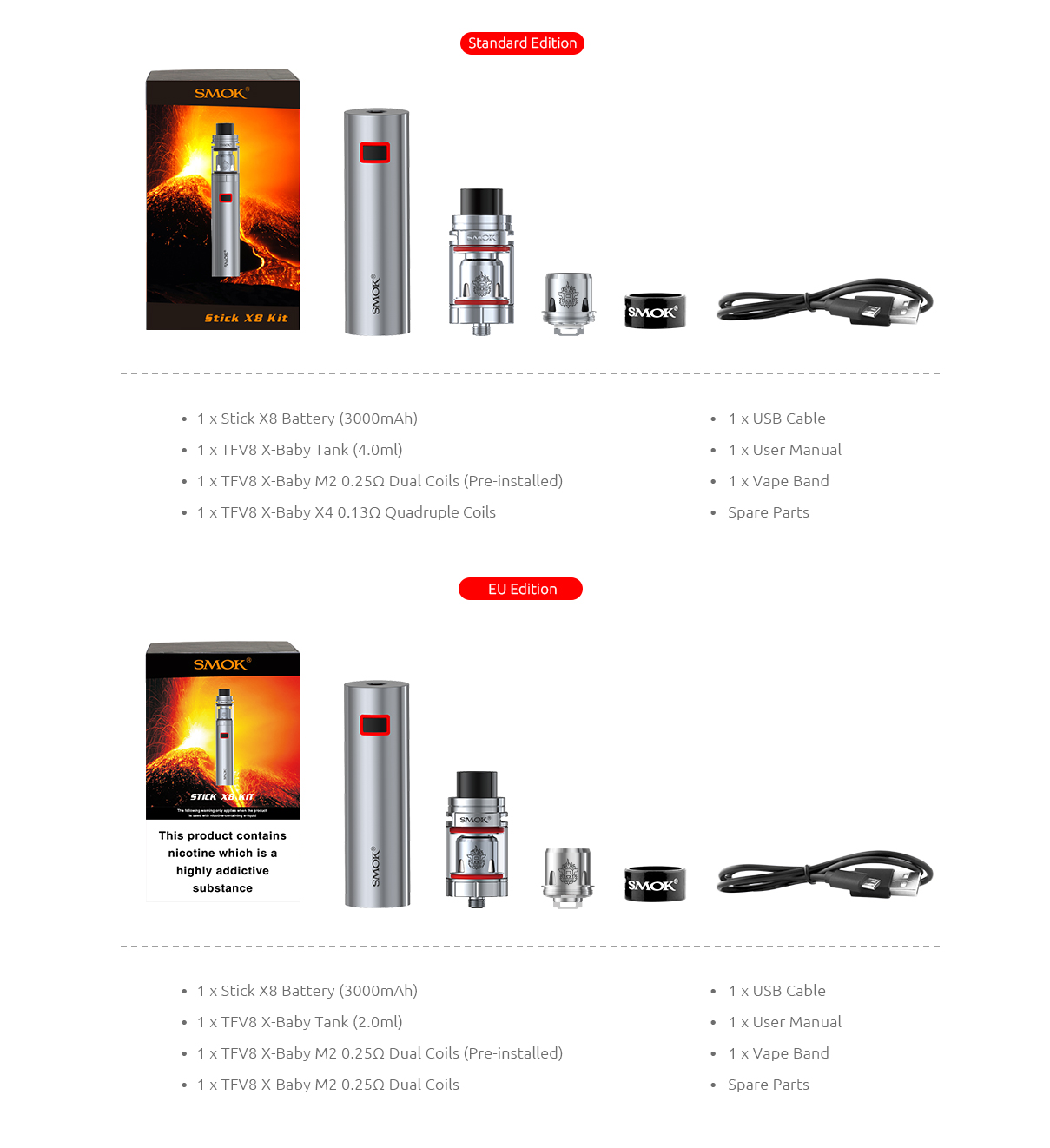 SPECIFICATIONS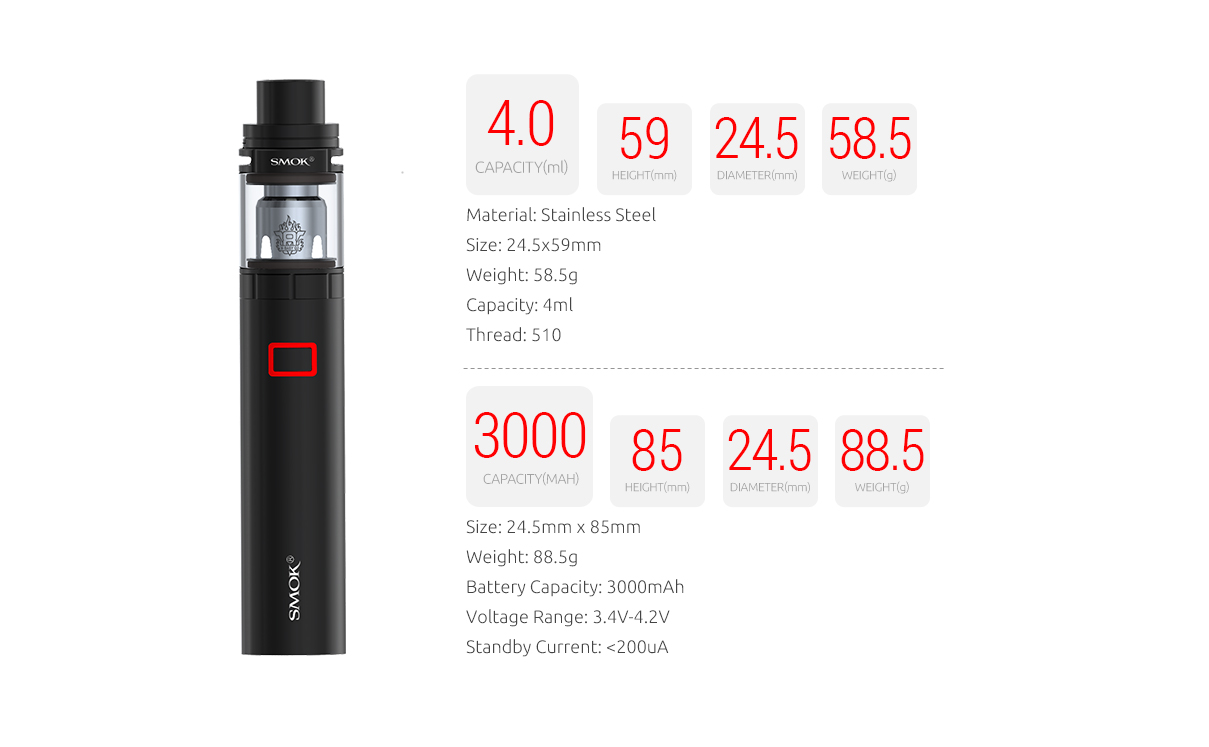 COMPONENTS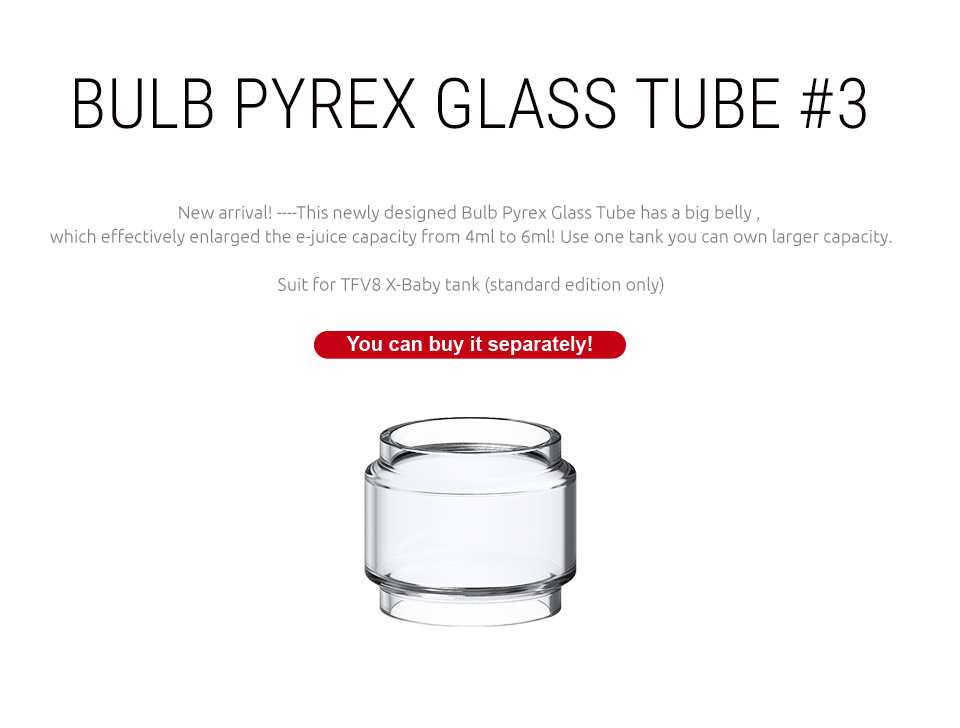 3000MAH BATTERY CAPACITY
Stick X8 Kit adopts built-in 3000mAh battery which is powerful and durable; what's more, it brings you
massive cloud of vapor.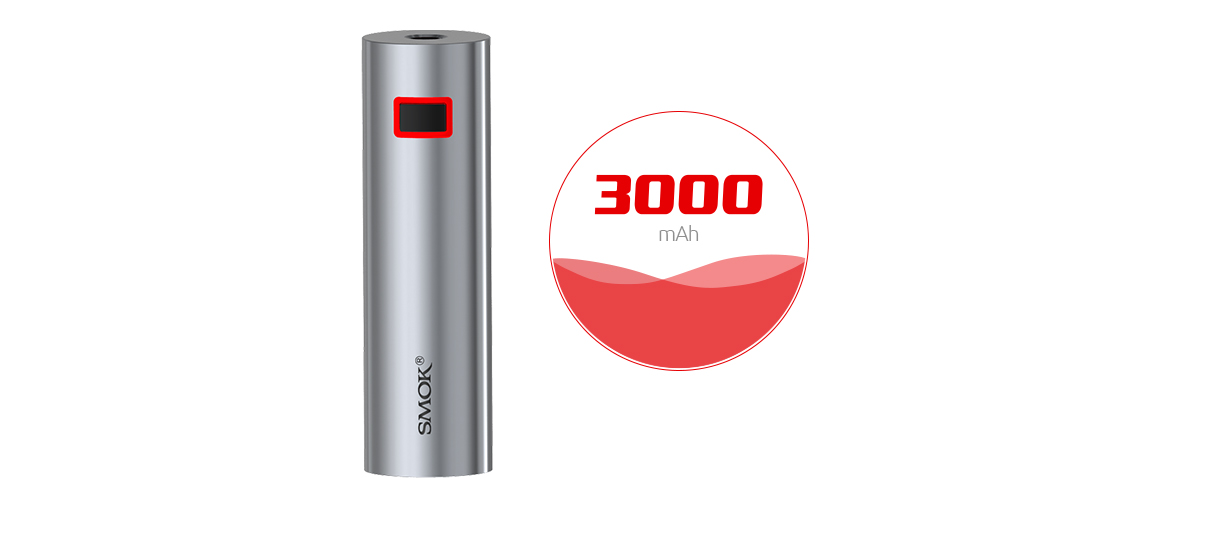 INTELLIGENT BATTERY LIFE
INDICATOR
Young men love all intelligent goods; the intelligent battery indicator of Stick X8 battery will show
clear prompts. The battery life indicator will blink 4 times each time you take a puff. When it blinks
fast with 15 times, it indicates that the voltage is lower than 3.3V, please charge.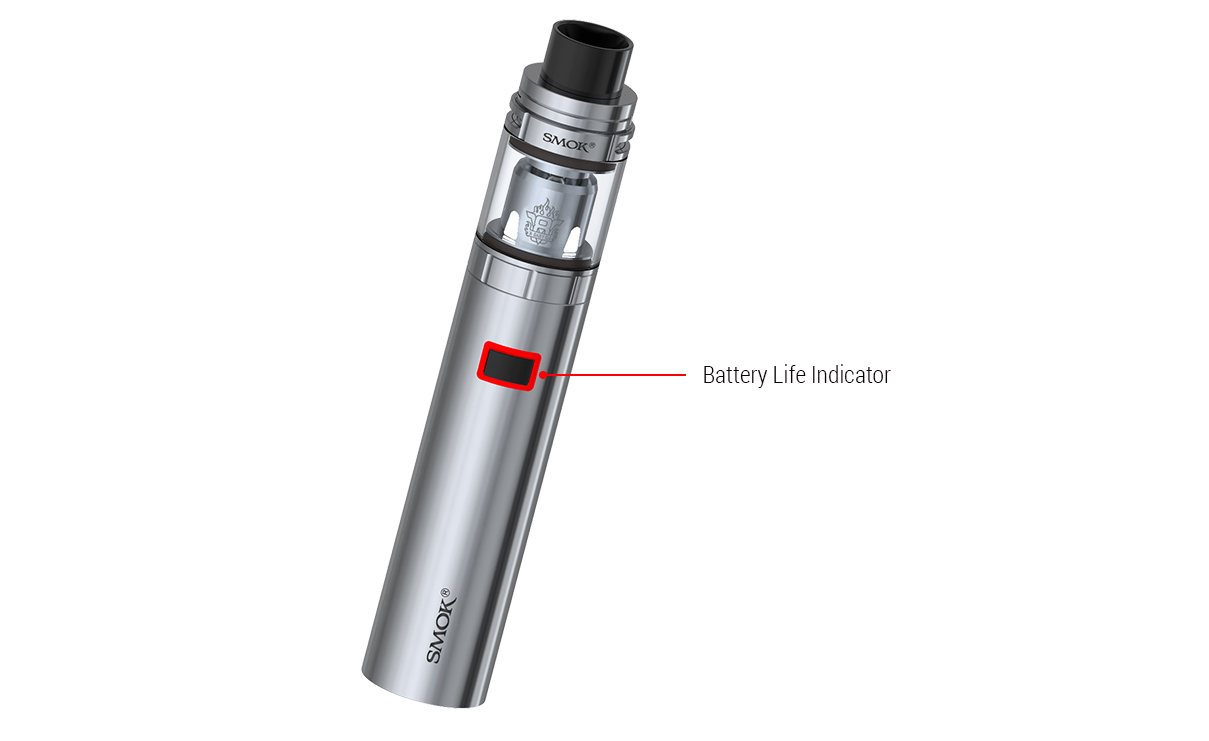 MULTIPLE AUTOMATIC-
PROTECTIONS
There are multiple protections, such as: 8 seconds protection, low resistance protection, short circuit
protection, and low voltage protection