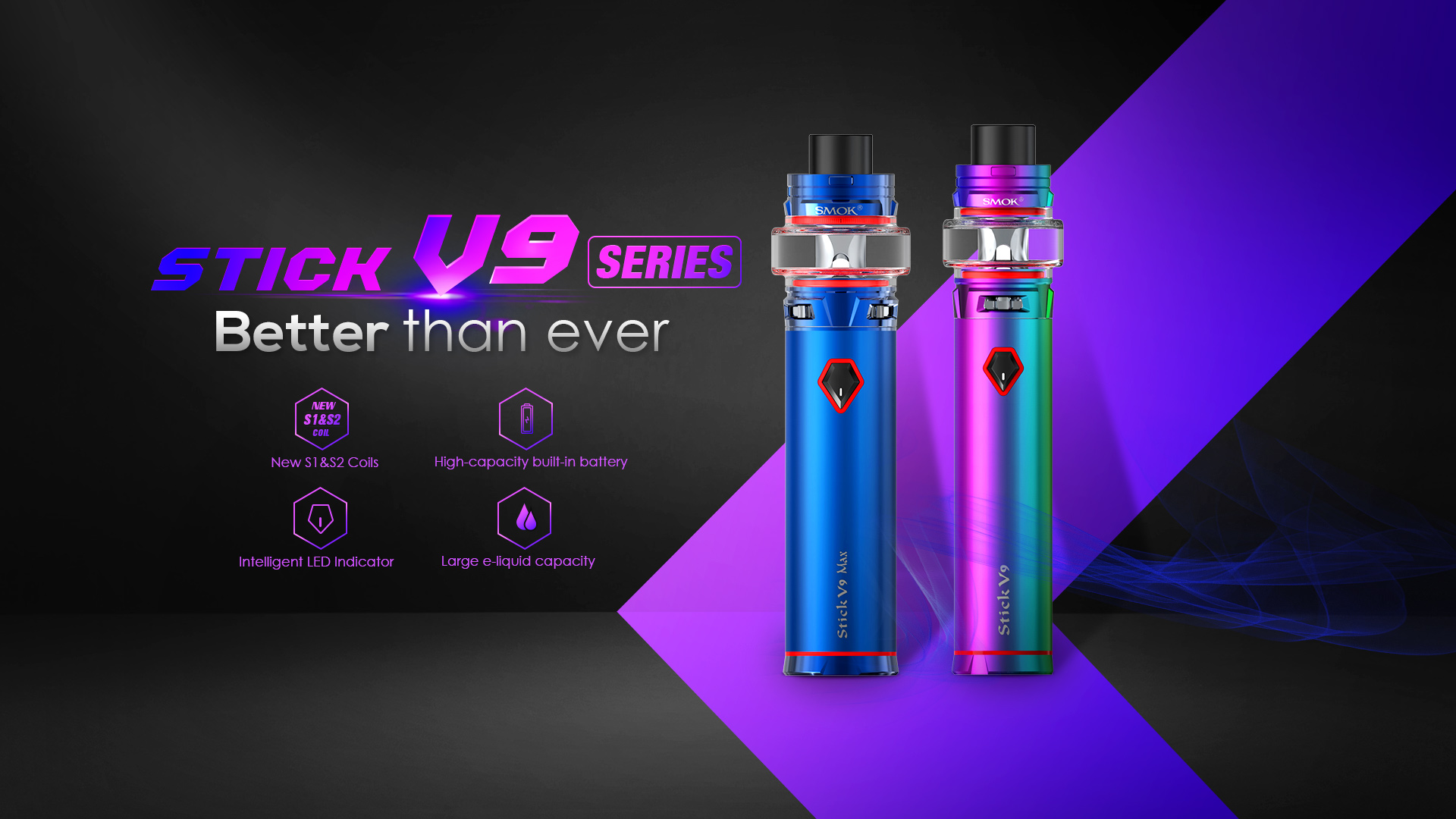 Stick V9 Max Kit and Stick V9 Kit are two new kits of Stick V9 series, also the upgraded version of Stick V8 series.
Stick V9 Max consists of a built-in 4000mAh battery and Stick V9 Max tank. For the "Max", you can tell from its 4000mAh
battery capacity, and its large outside diameter in stick and tank, no doubt, they're perfectly compatible with each
other. As for the tank, it has a gigantic e-liquid capacity with 8.5ml, and it's specially designed for Stick V9 Max.
Stick V9 comes with a built-in 3000mAh battery and TFV8 Baby V2 tank, which uses Pyrex Glass Tube #7 with 5ml large
e-liquid capacity, ensuring a carefree vaping life.
These two kits both adopt Baby V2 S1 Coil and Baby V2 S2 Coil, which are custom-made coils for Stick series battery,
focusing on lower wattage but intense clouds and flavor. Stick V9 series has debuted, and it's better than ever.
Innovation keeps changing the vaping experience!
6 COLORS AVAILABLE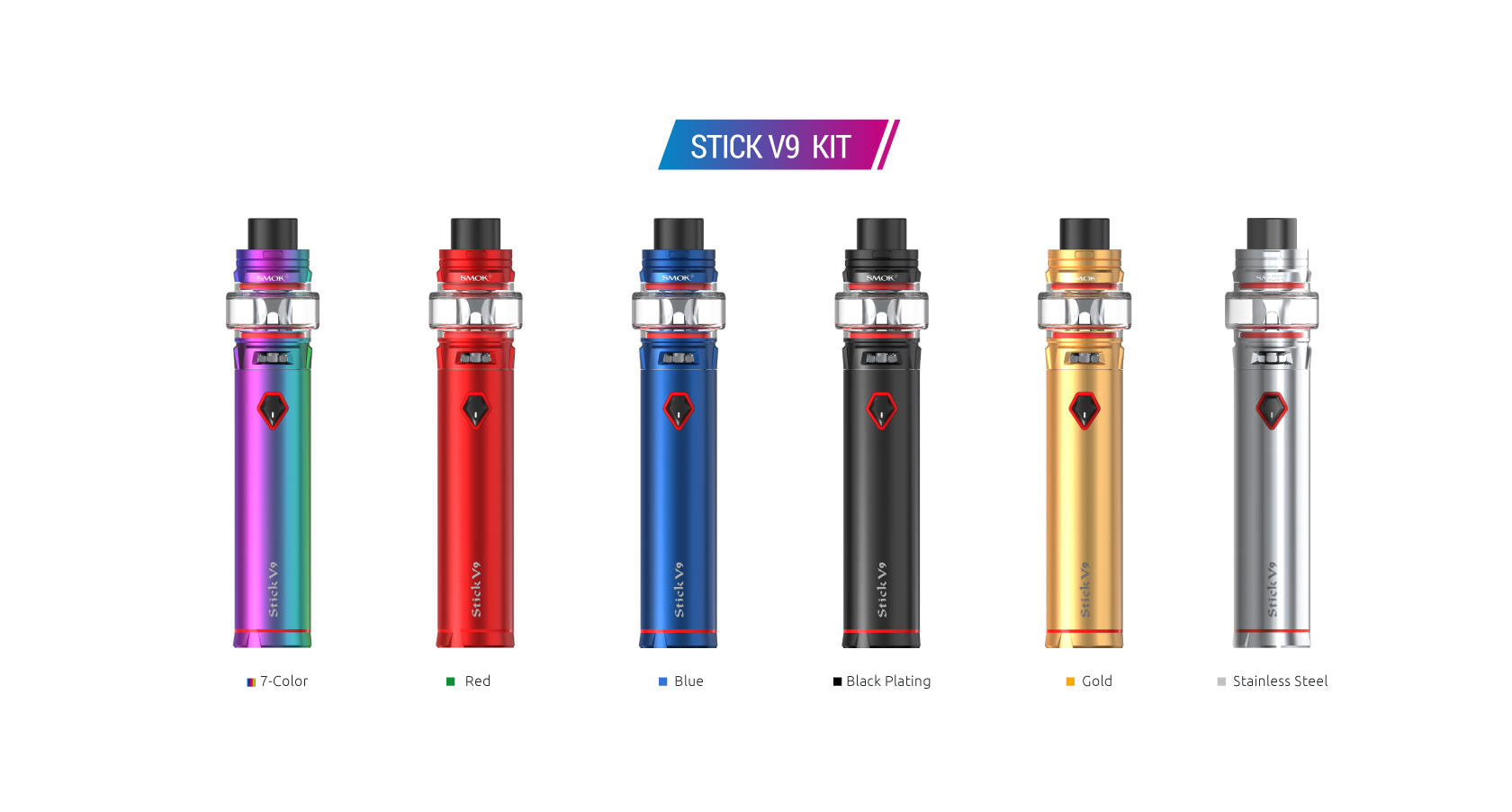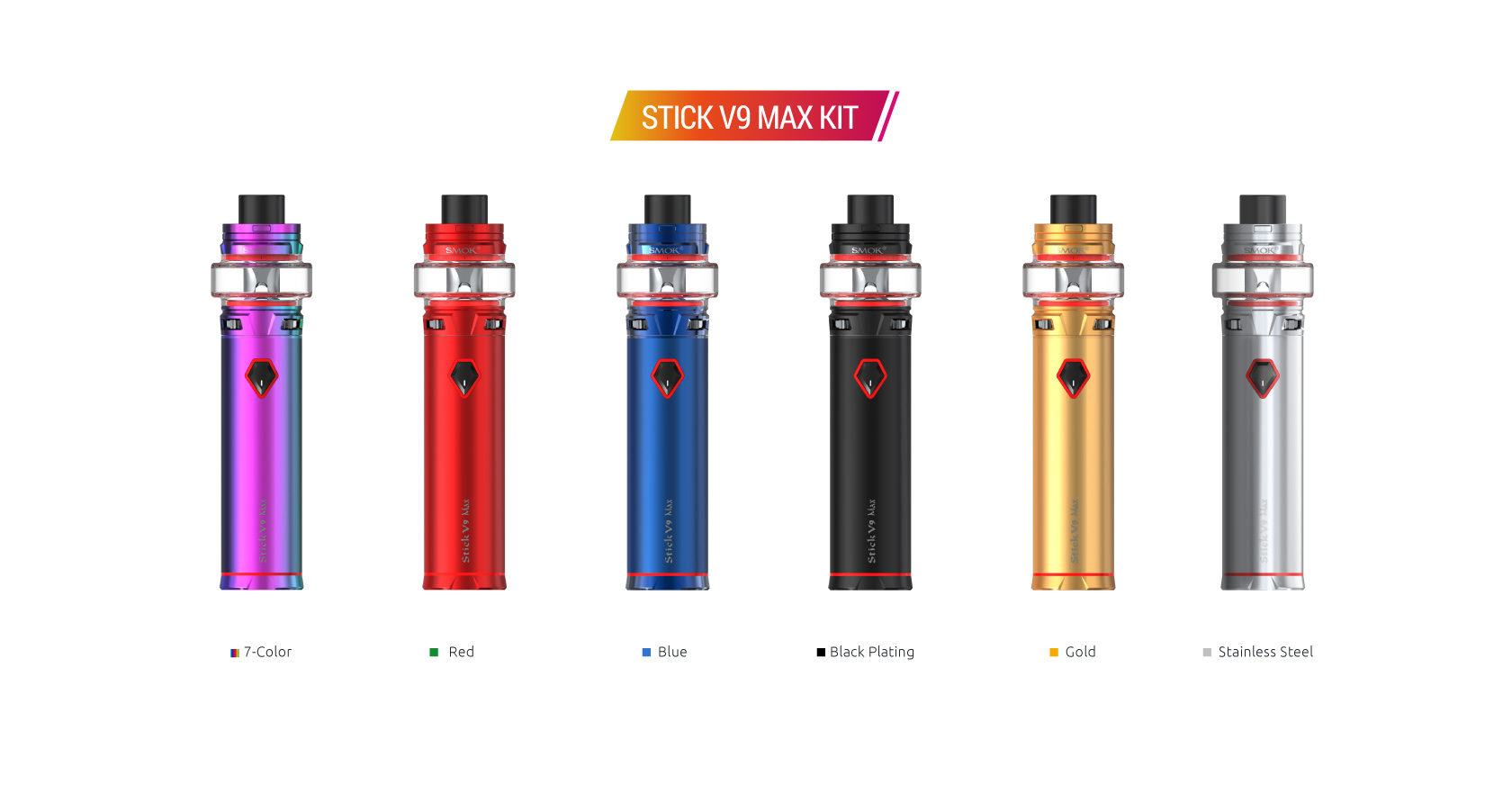 WELCOME TO STICK V9 SERIES
MAXIMIZE YOUR VAPING ENJOYMENT
Stick V9 Max, SMOK's latest pen-style vape with the largest battery capacity to date, has eye-catching outlook and excellent performance, making it stand out among stick series.
Stick V9, another new stick solider of Stick V9 series, has the same appearance and similar functionality as Stick V9 Max.
During the process of vaping, you will be satisfied with these two power masters.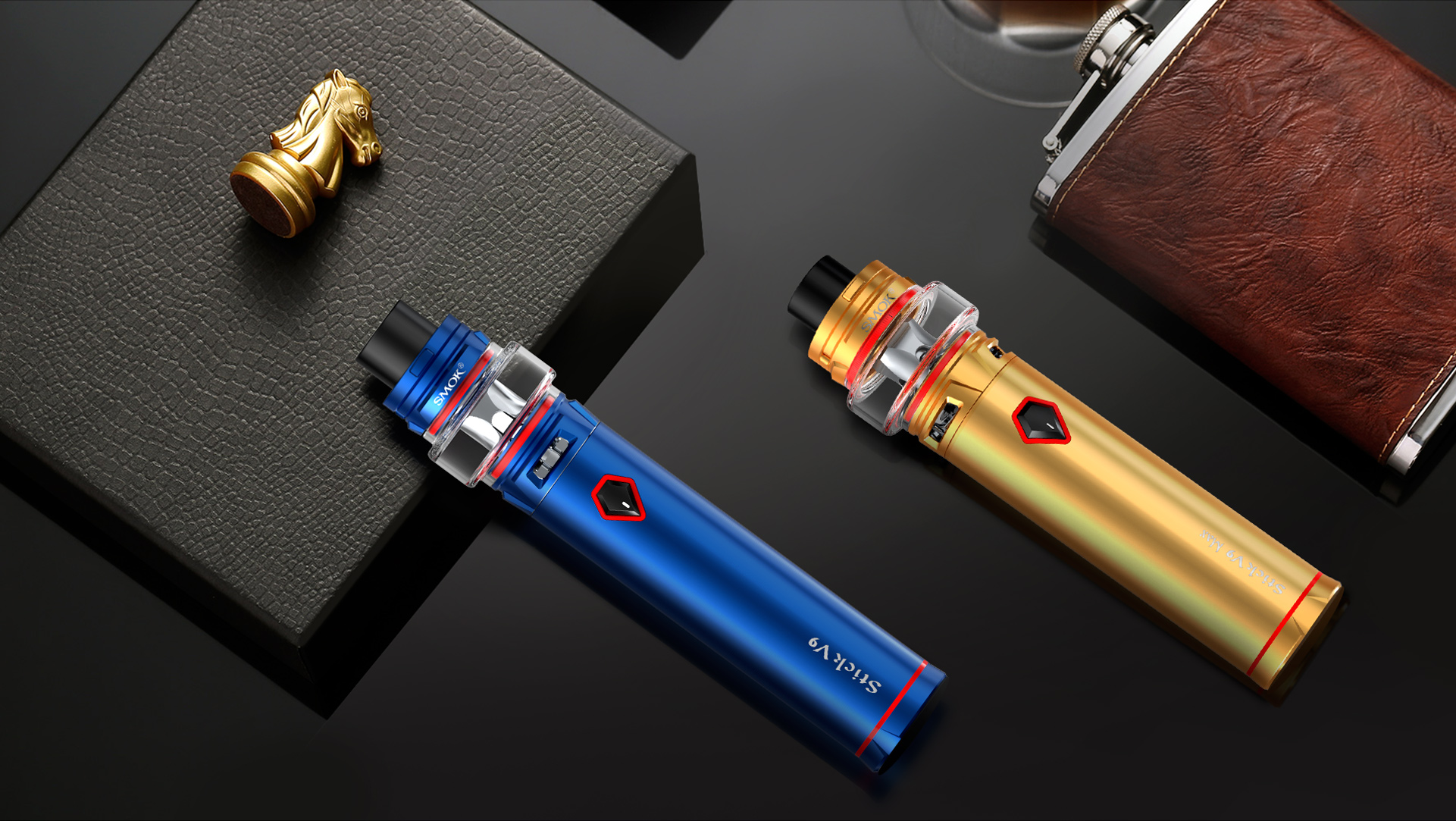 THE KIT INCLUDES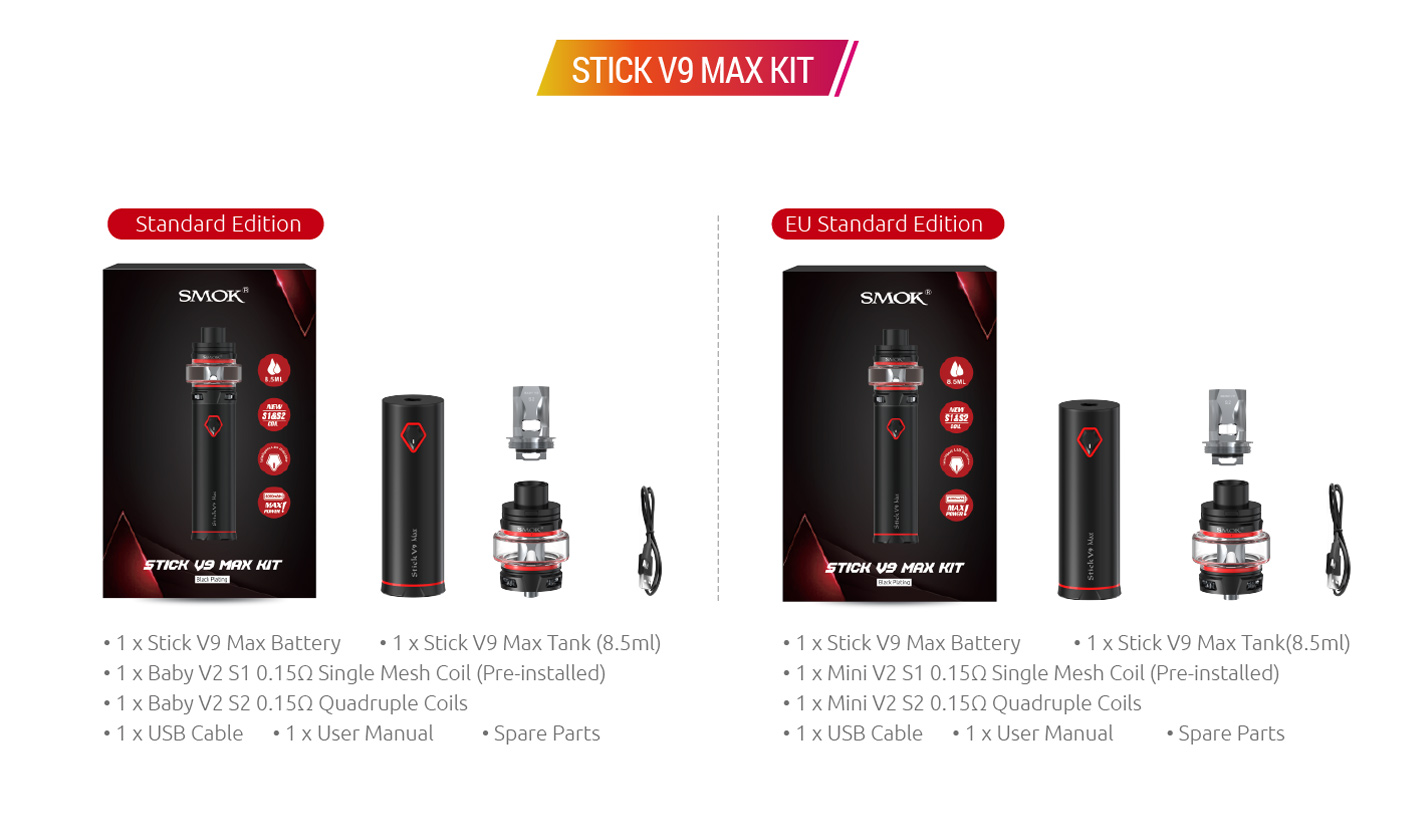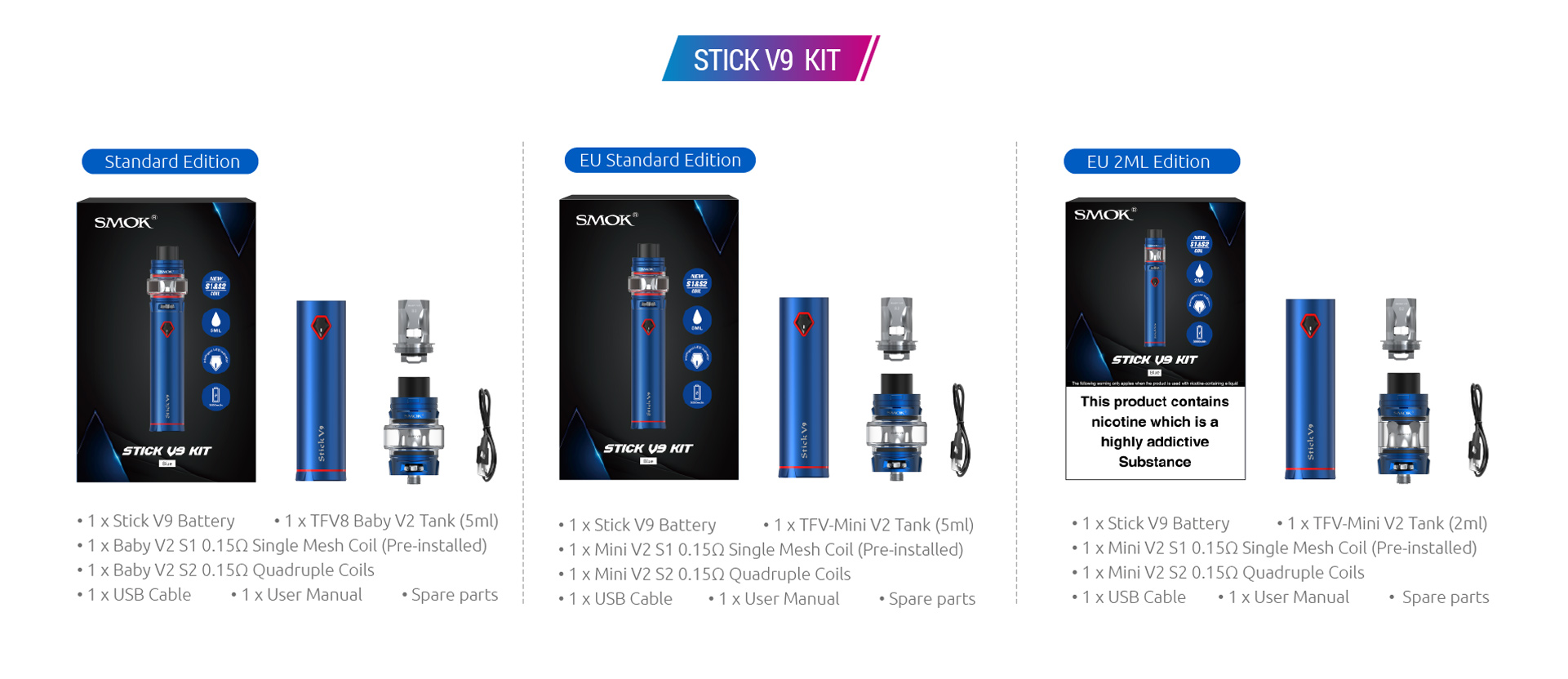 EXQUISITE APPEARANCE
When holding Stick V9 series in your hand, you can feel how exquisite it is, and the carefully carved battery bottom makes the kit an artwork.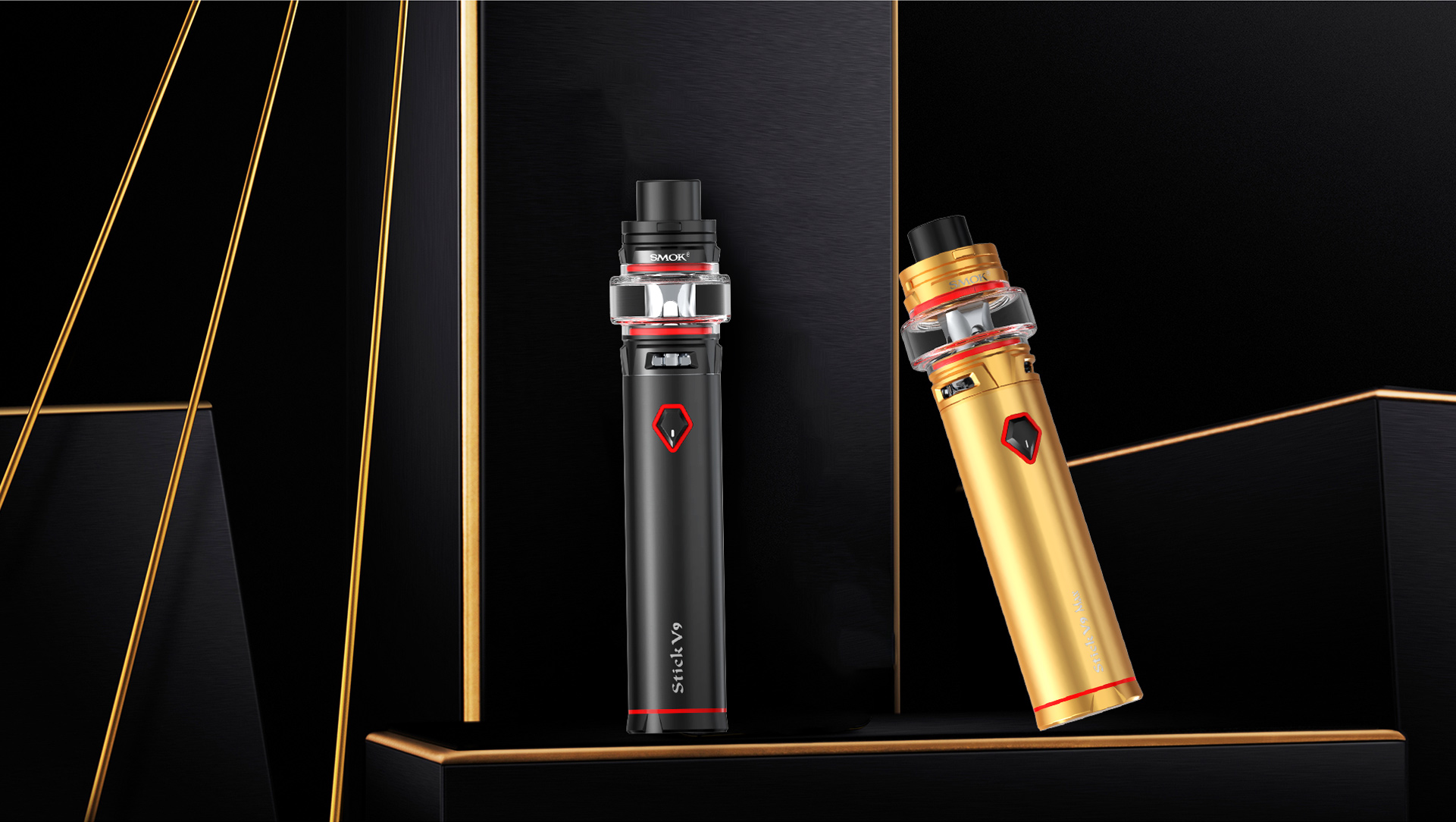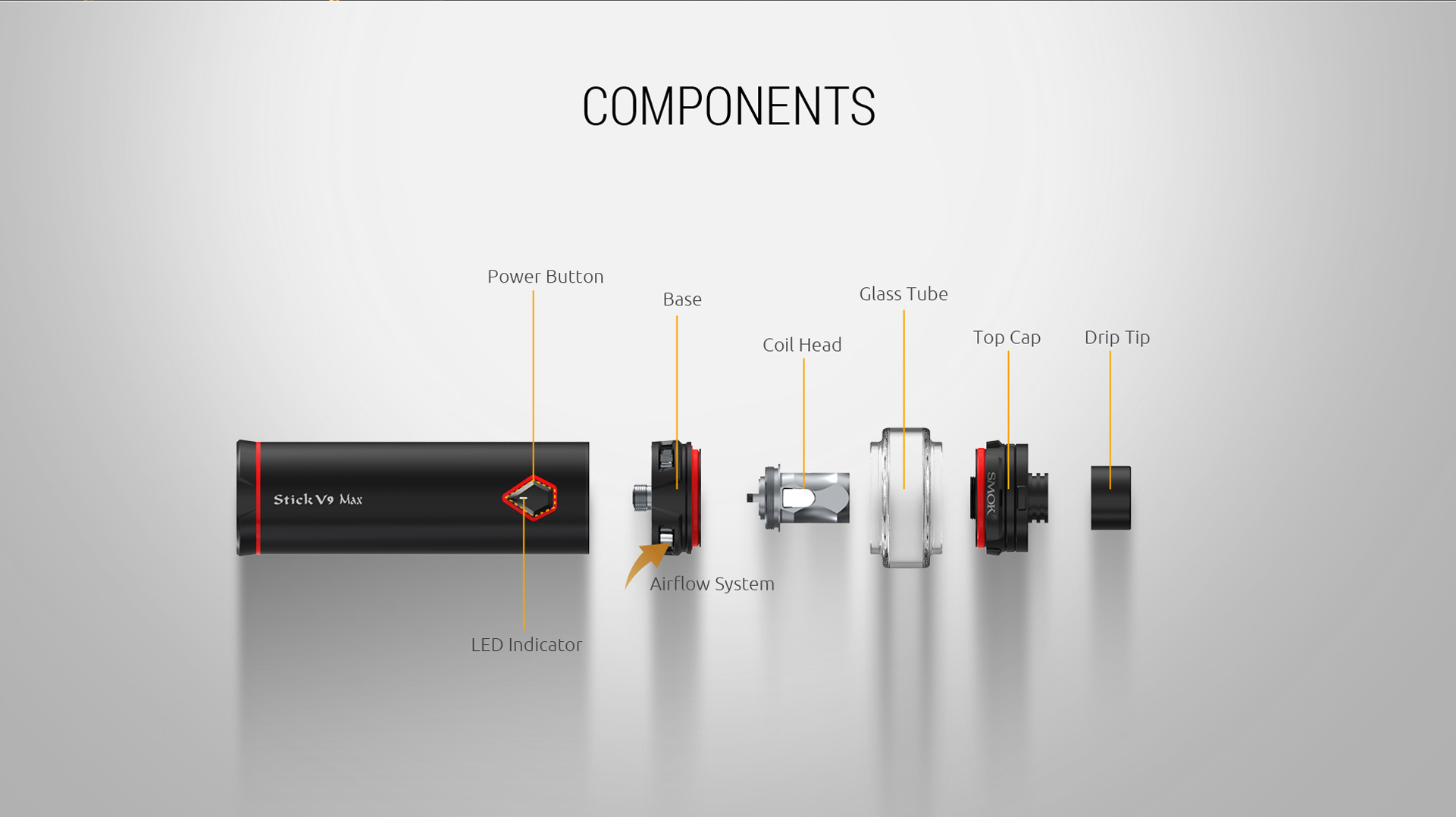 SPECIFICATIONS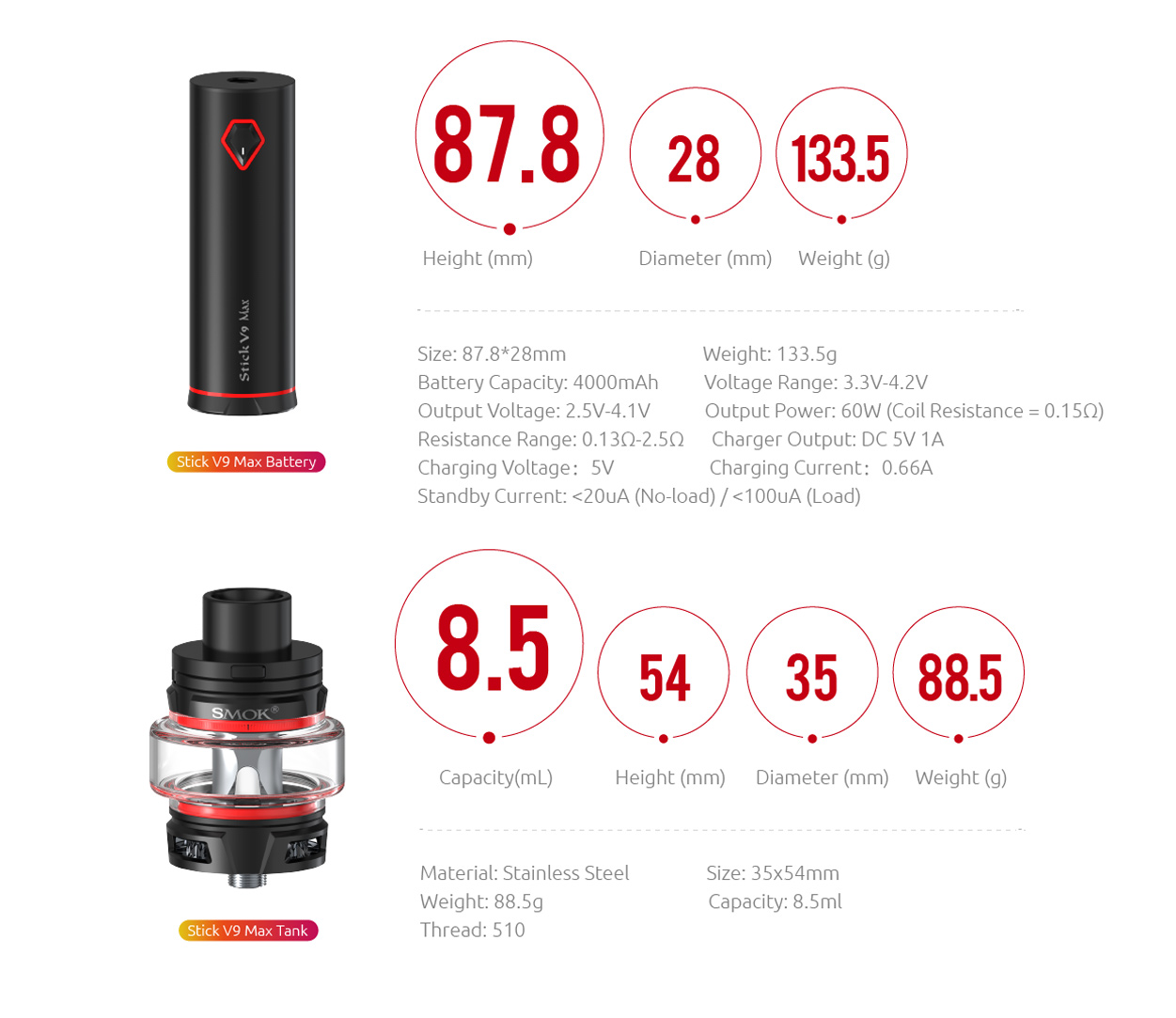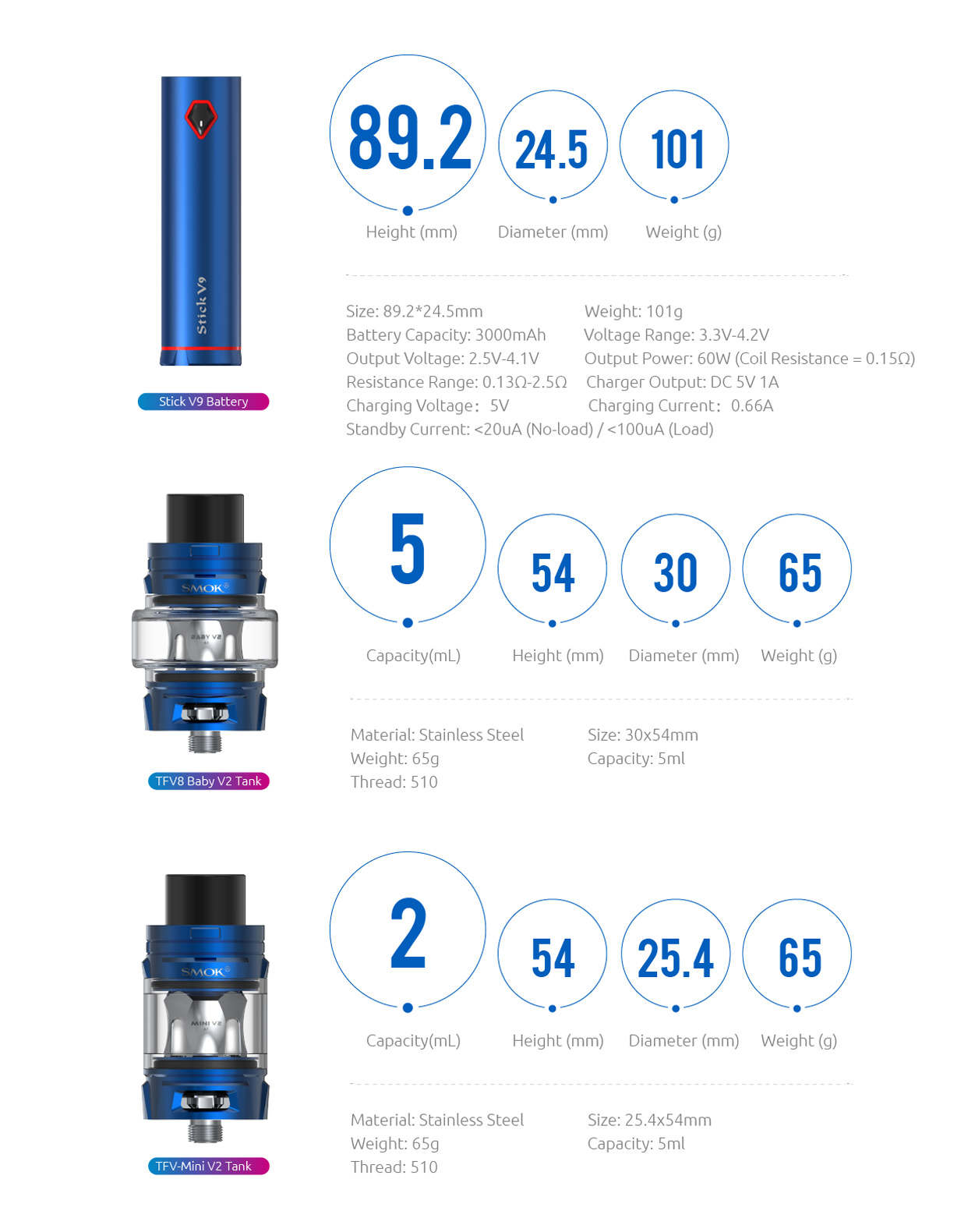 NEW POWER MASTER
WITH UNPRECEDENTED BUILT-IN BATTERY POWER
Stick V9 Max is a power master that employs an unprecedented built-in 4000mAh battery to provide you powerful and durable vaping experiences,
and Stick V9 employs a built-in 3000mAh battery to ensure a longtime vaping and massive cloud of vapor.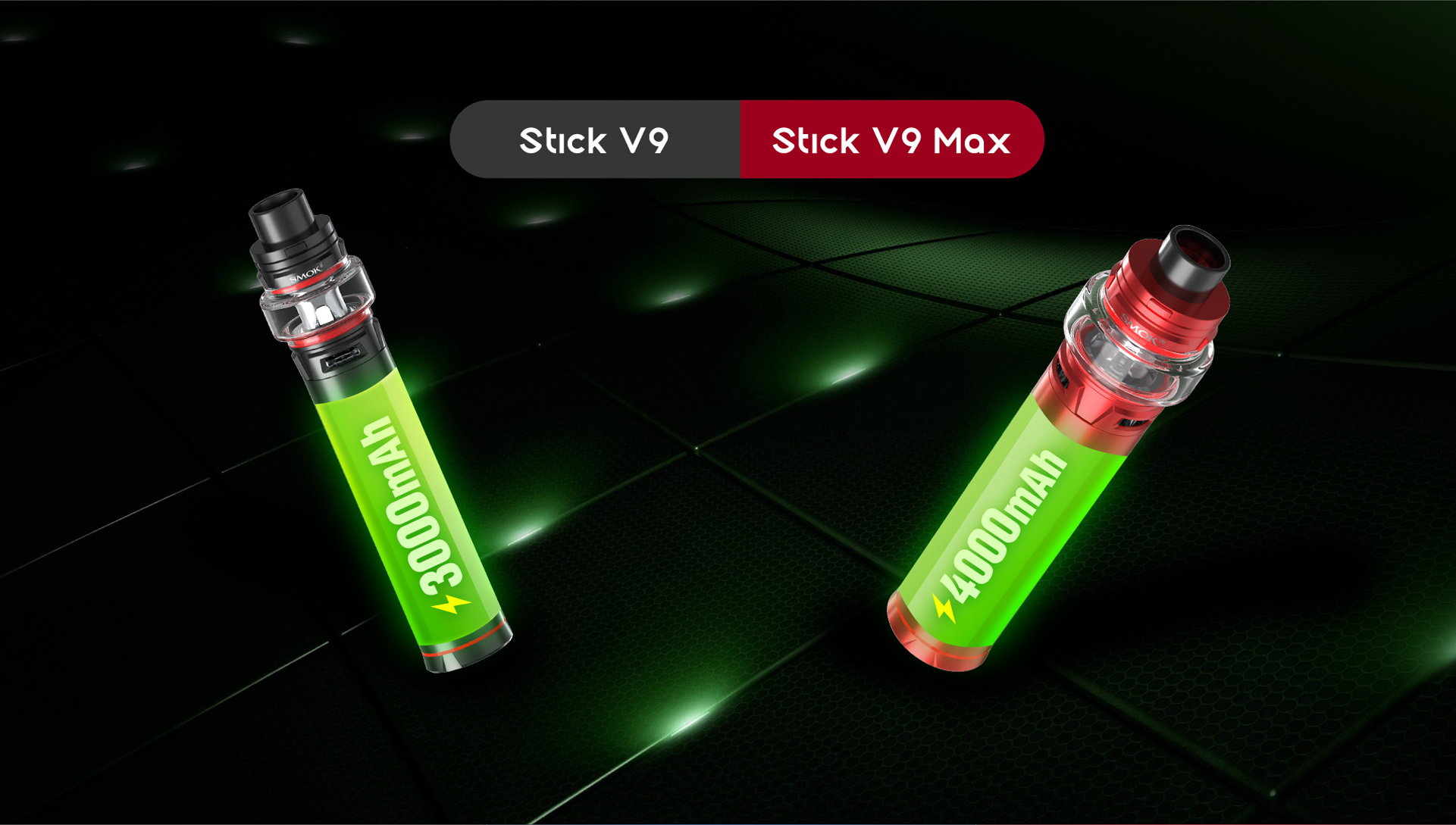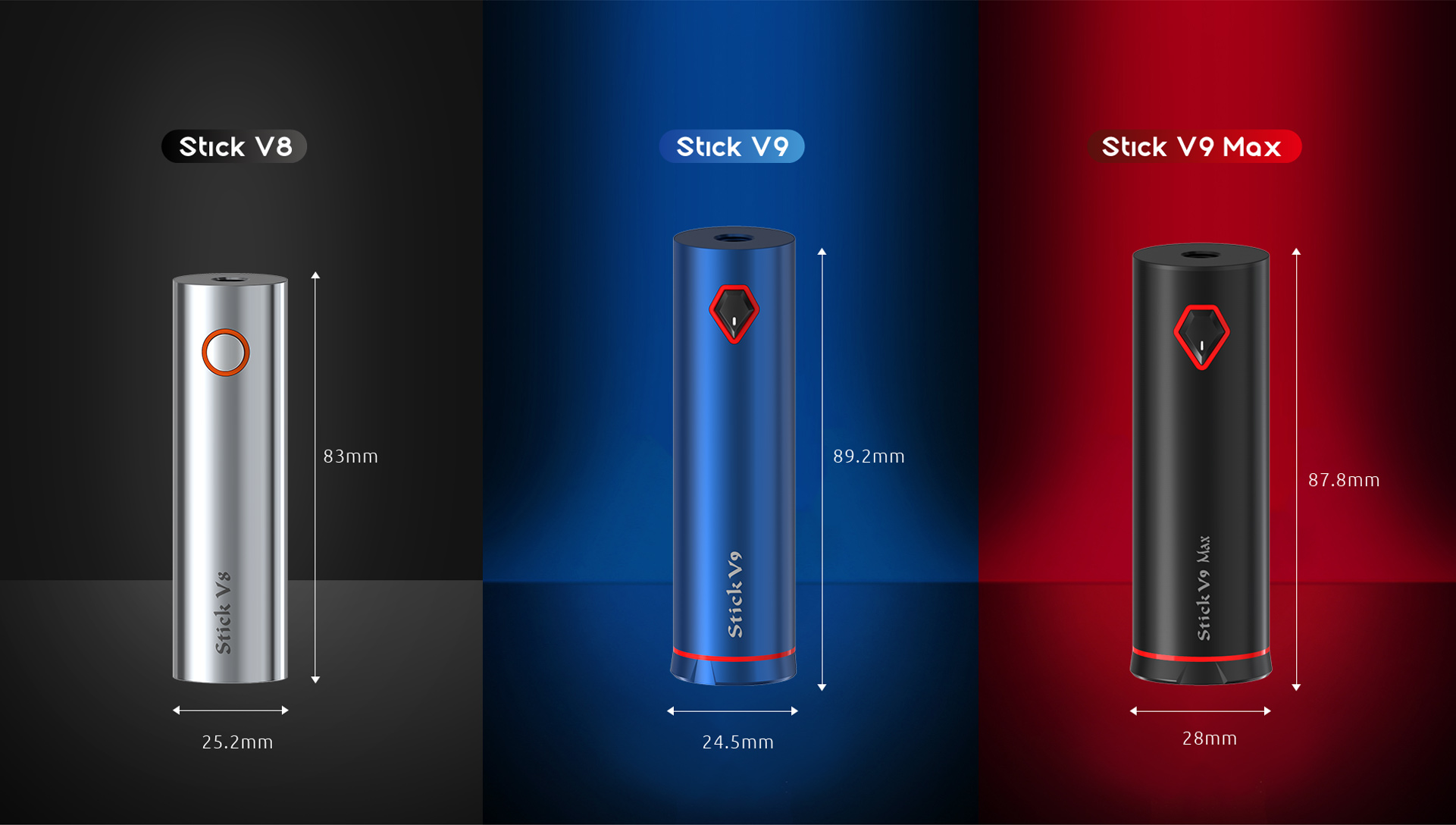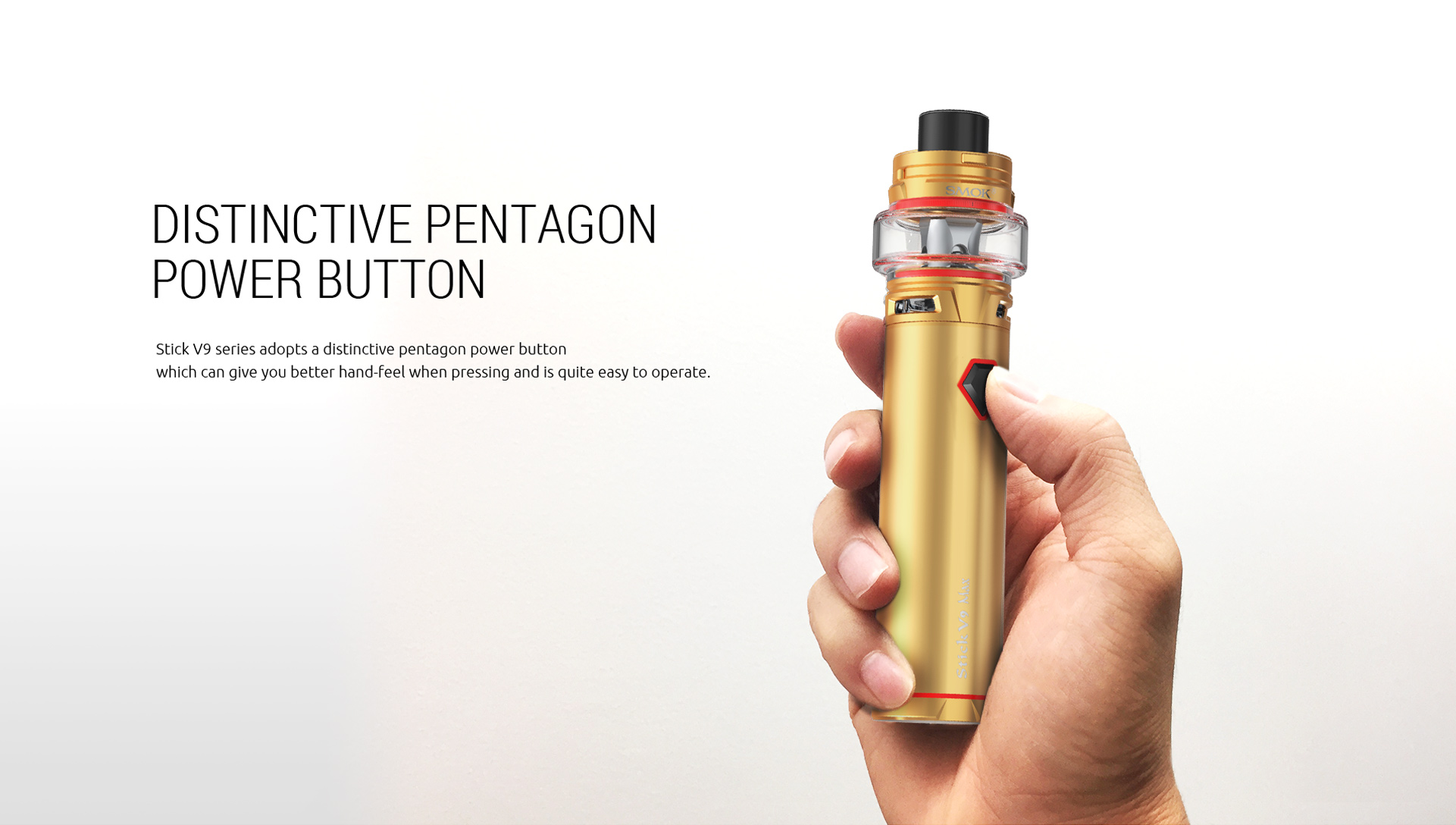 INTELLIGENT LED INDICATOR
TO SHOW YOU CLEAR BATTERY POWER
Stick V9 series has LED indicator to tell you the accurate conditions of itself. If pressing the Power Button twice in a row within one second, you'll see the current battery power status.
And three kinds of indicator colors on the lower part of the pentagon represent various battery levels.
For instance, Green Light: above 70% battery power remaining, Orange Light: 30%-70% battery power remaining, and Red Light: below 30% battery power remaining.
Besides, the LED indicator will flash 15 times when the voltage is lower than 3.3V.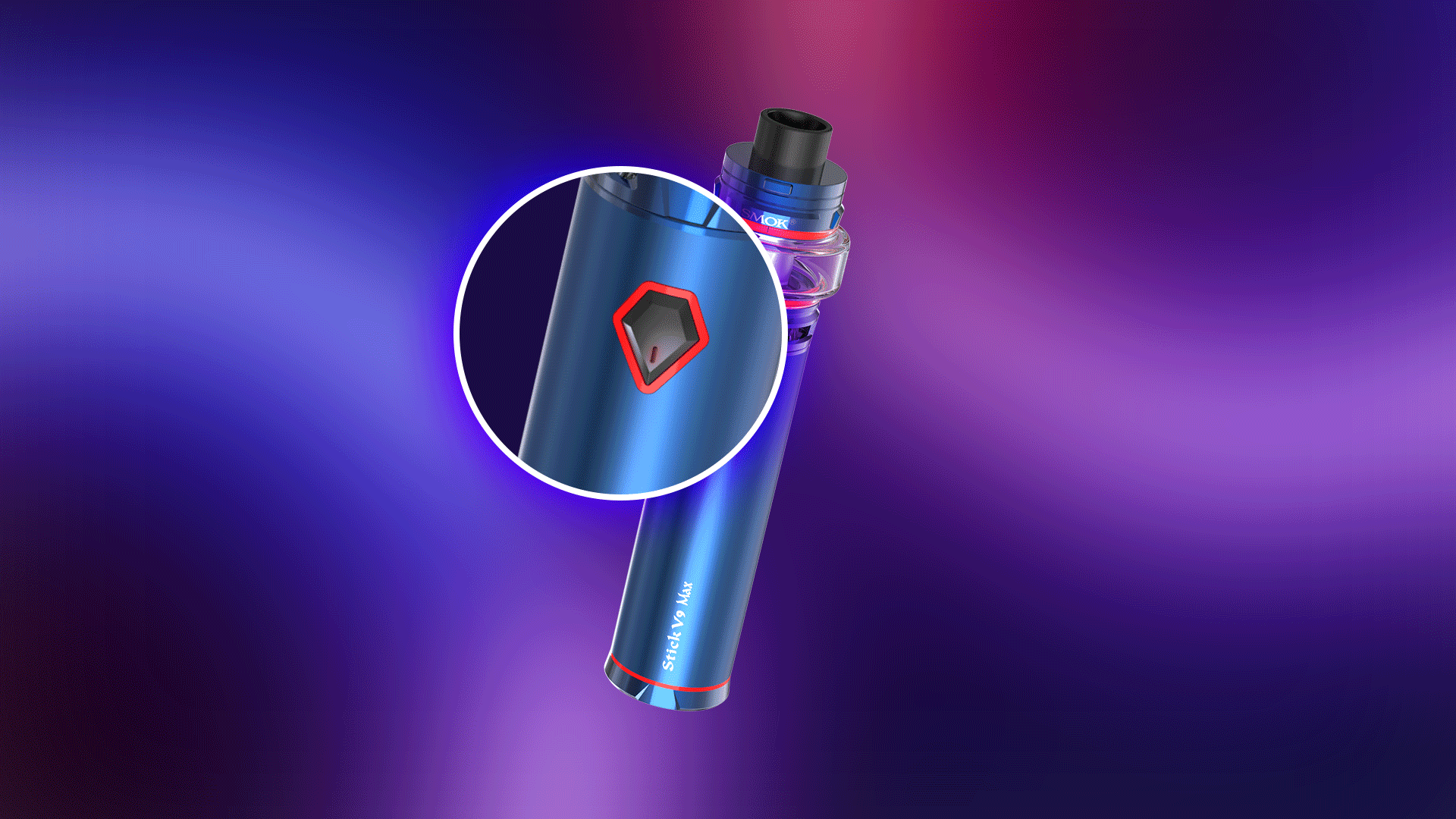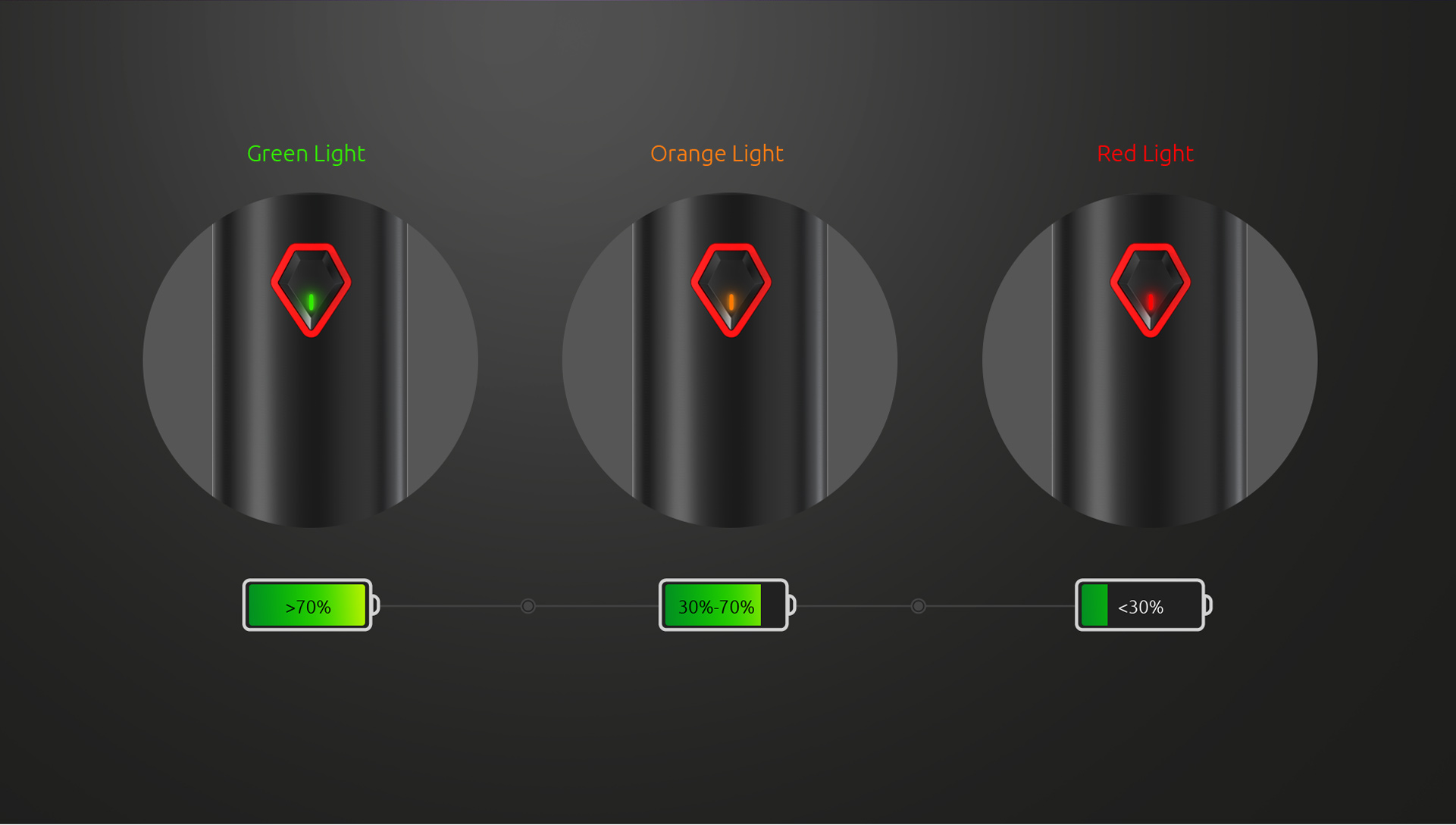 MULTIPLE PROTECTIONS FOR YOUR V9 SERIES
Multiple protections are provided to avoid potential risks.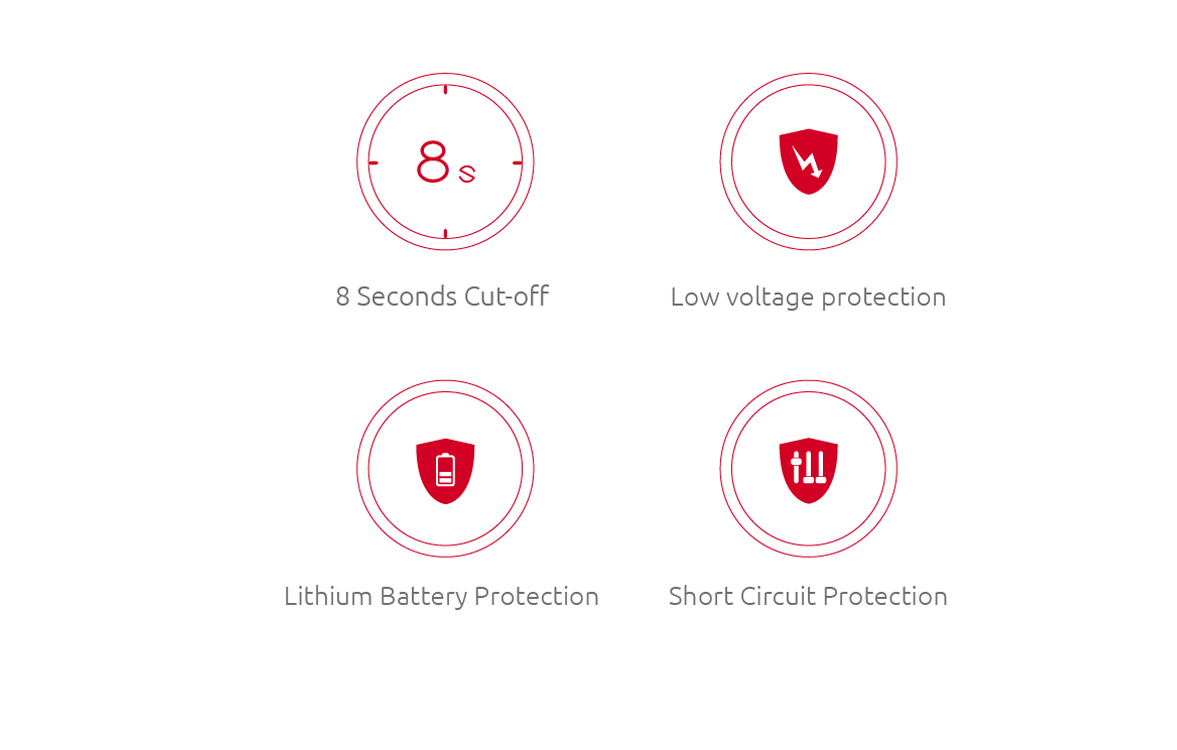 STICK V9 MAX TANK
BIGGER THAN BIGGER
Stick V9 Max tank is the largest tank ever designed by SMOK. Even bigger bulb glass tube.
Even larger filling slot that can easily drip e-liquid into the tank. Upgraded airflow system with even wider three airflow slots.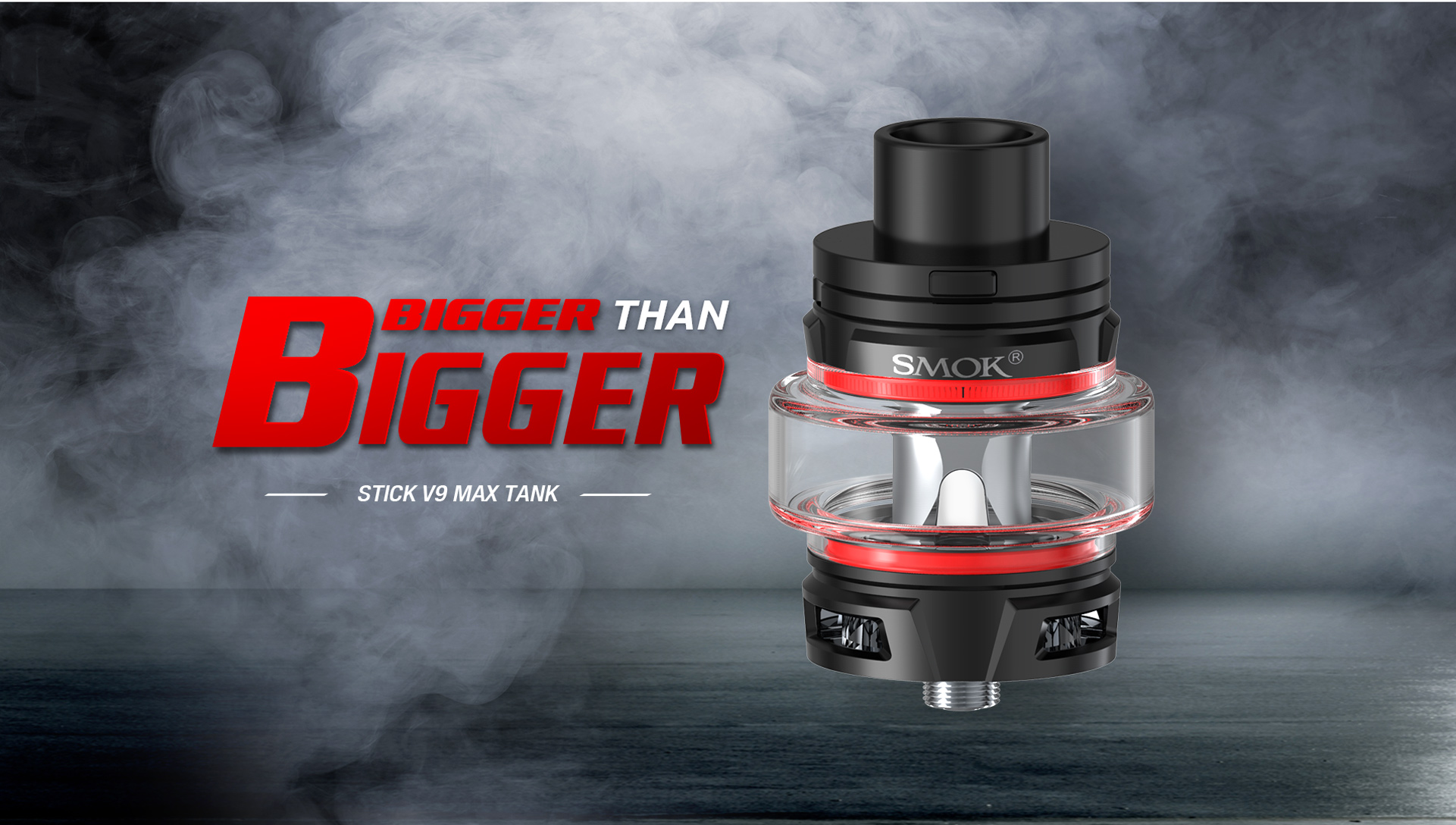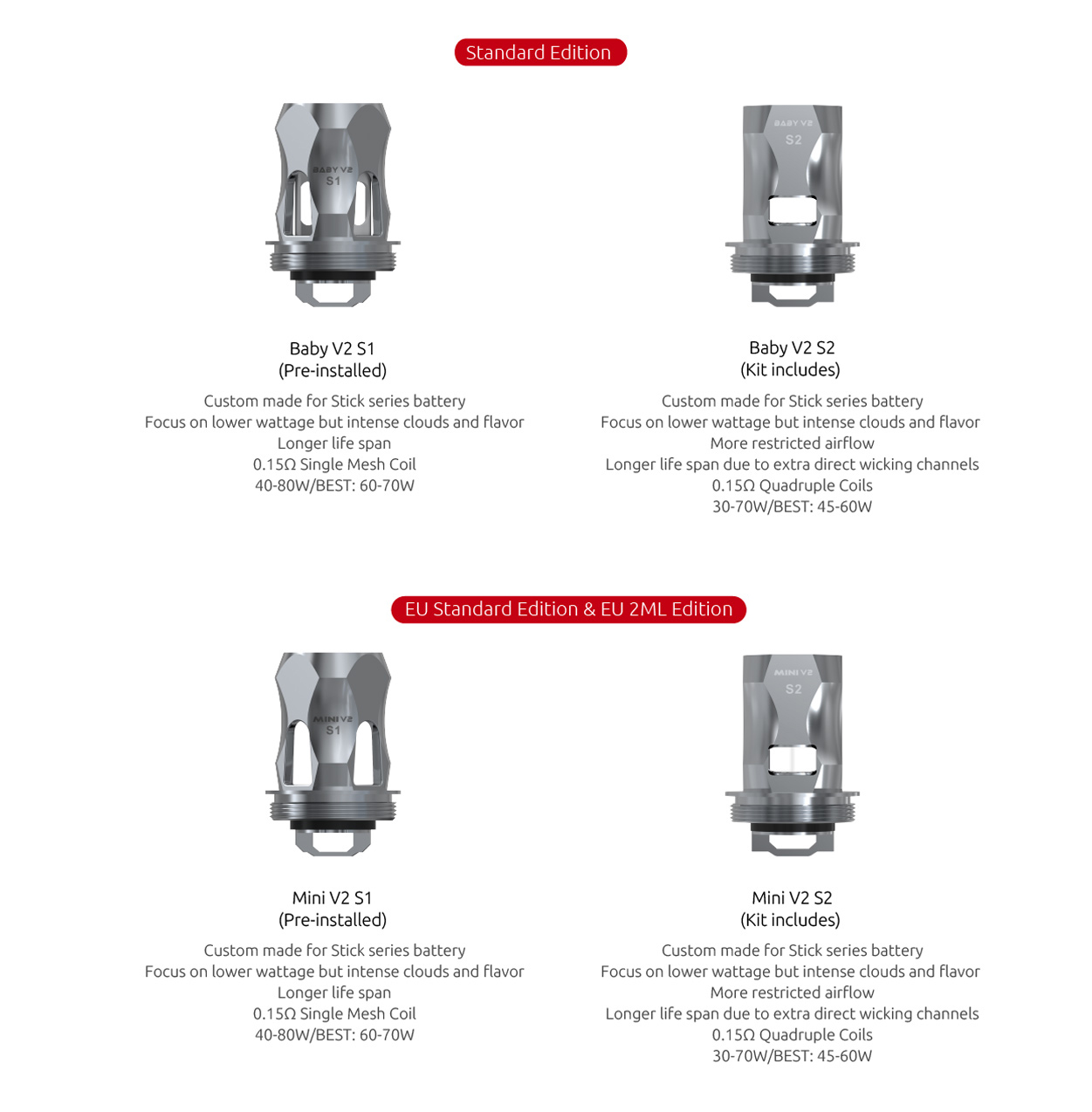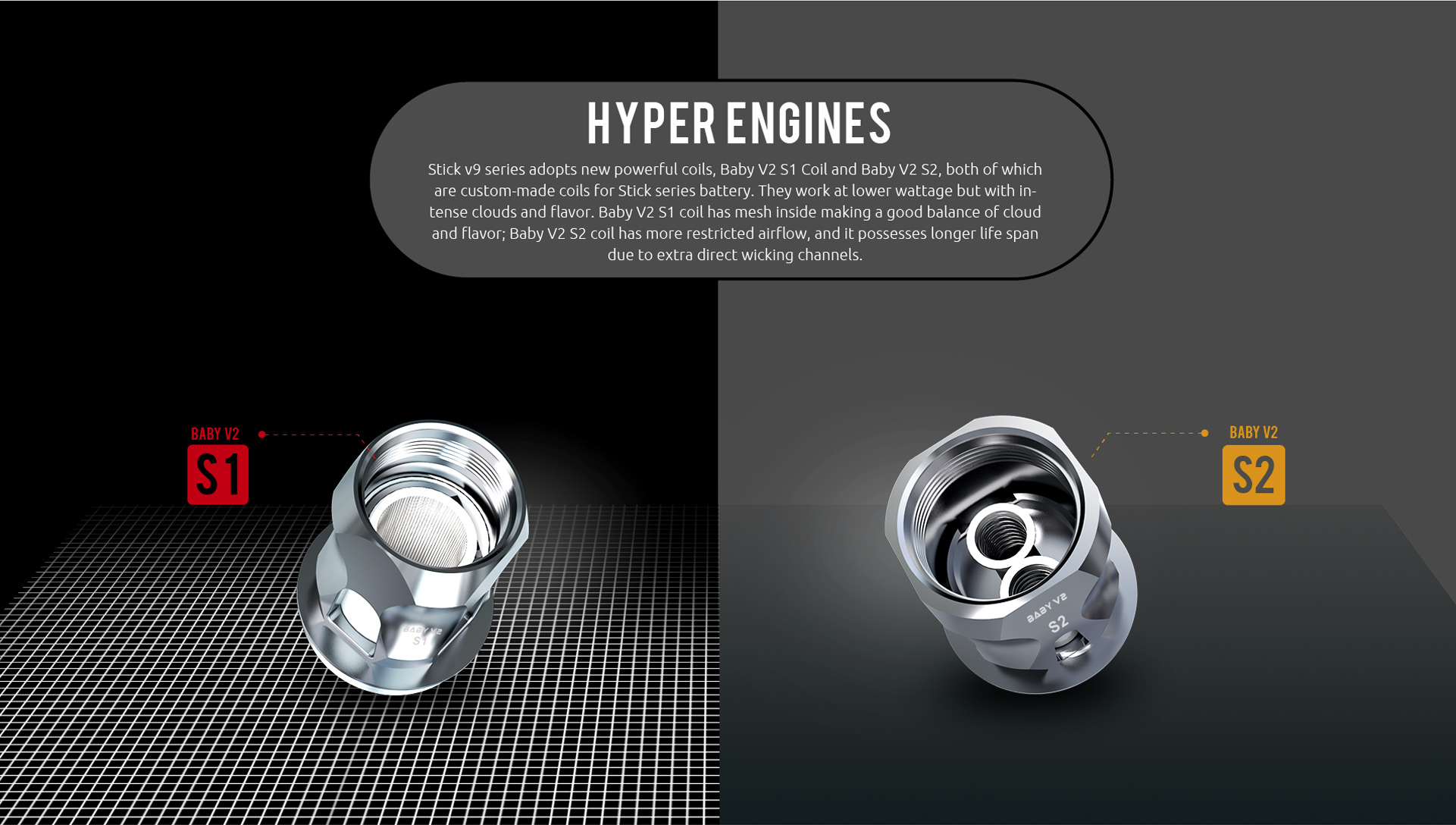 CONVEX GLASS TUBE
Different from traditional tanks, Stick V9 Max tank adopts convex glass tube -- Bulb Pyrex Glass Tube #8, which can effectively enlarge the e-liquid capacity.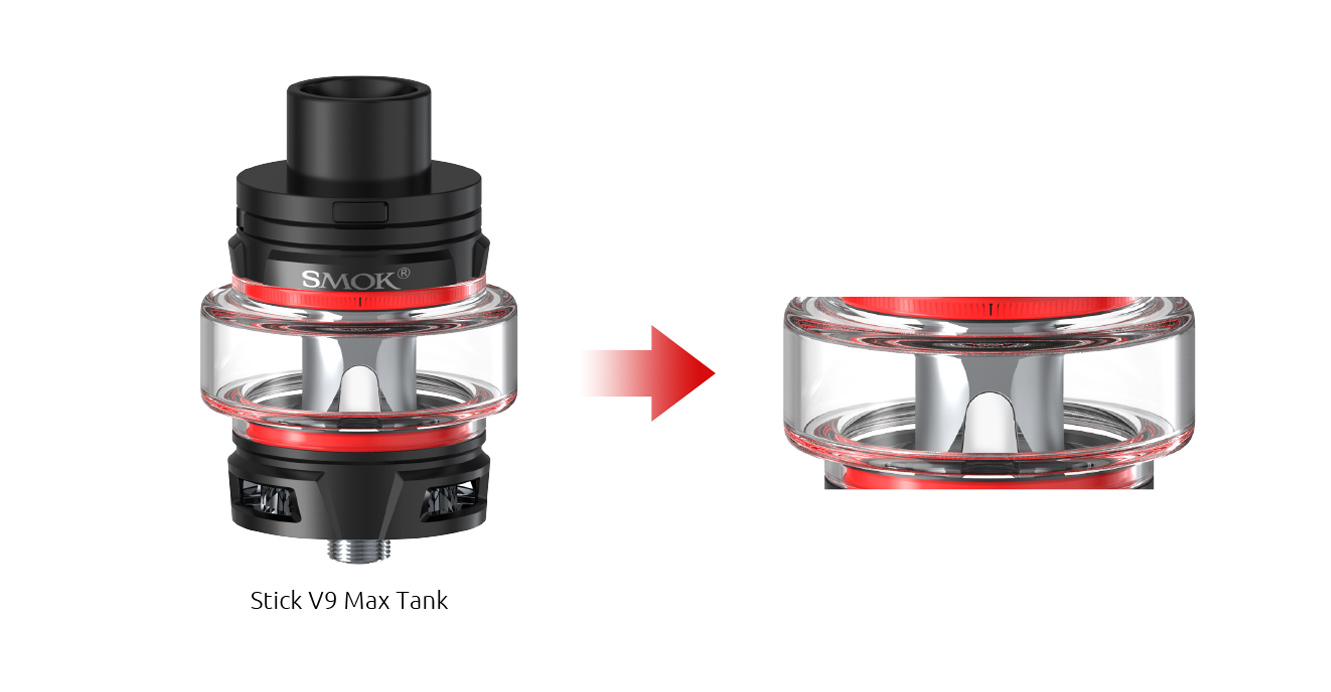 8.5ML CAPACITY
Stick V9 Max has 8.5ml capacity, which is the largest capacity ever! There's no need to add the e-liquid frequently, and you can enjoy vaping at ease.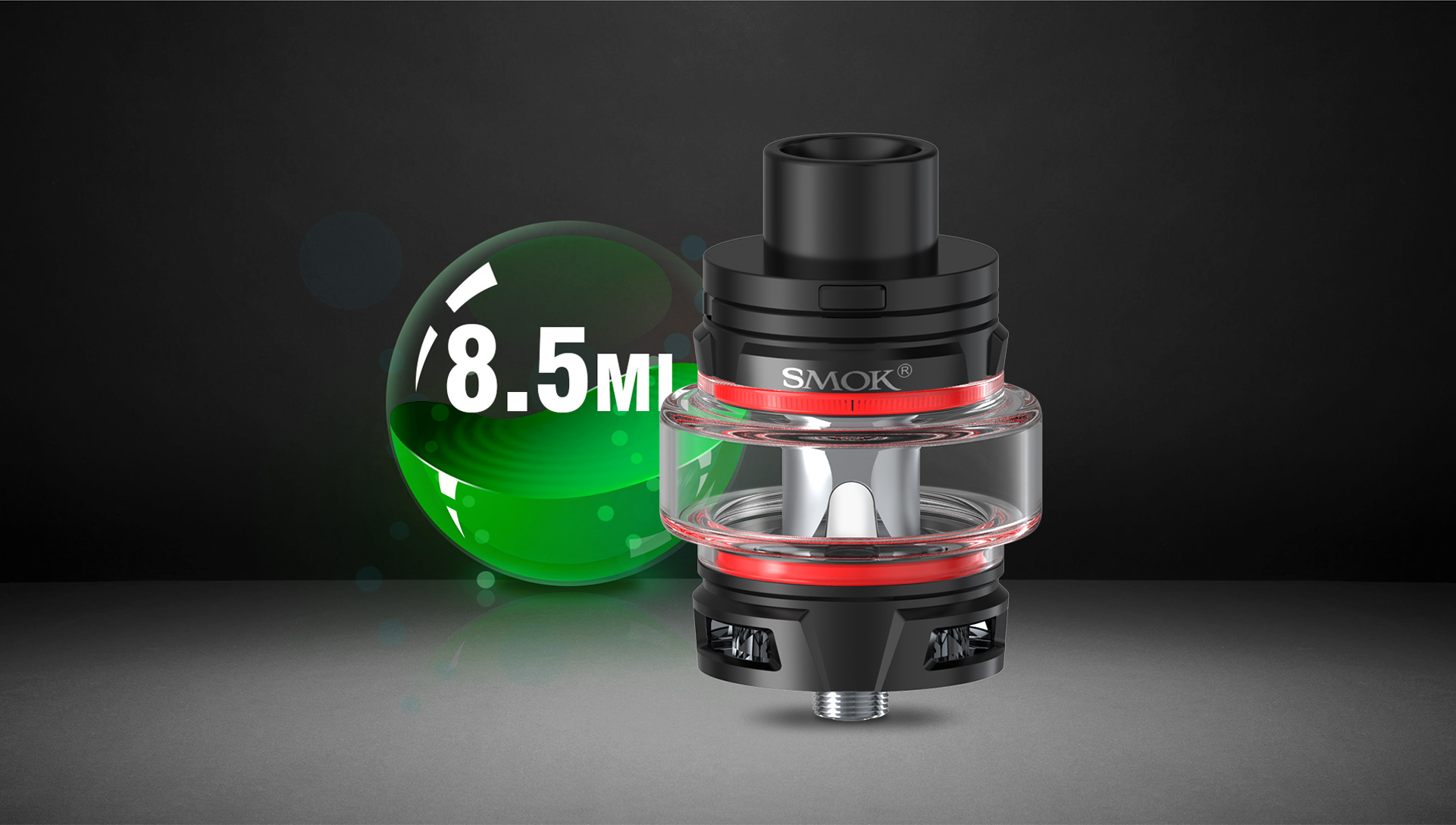 16MM V2 BABY EXCLUSIVE DELRIN DRIP TIP
The specially made drip tip has perfect diameter to fit your mouth, and it doesn't need to screw,
only with simply press you can finish the install work. Without doubt, it will bring increased airflow and provide more powerful draw effects.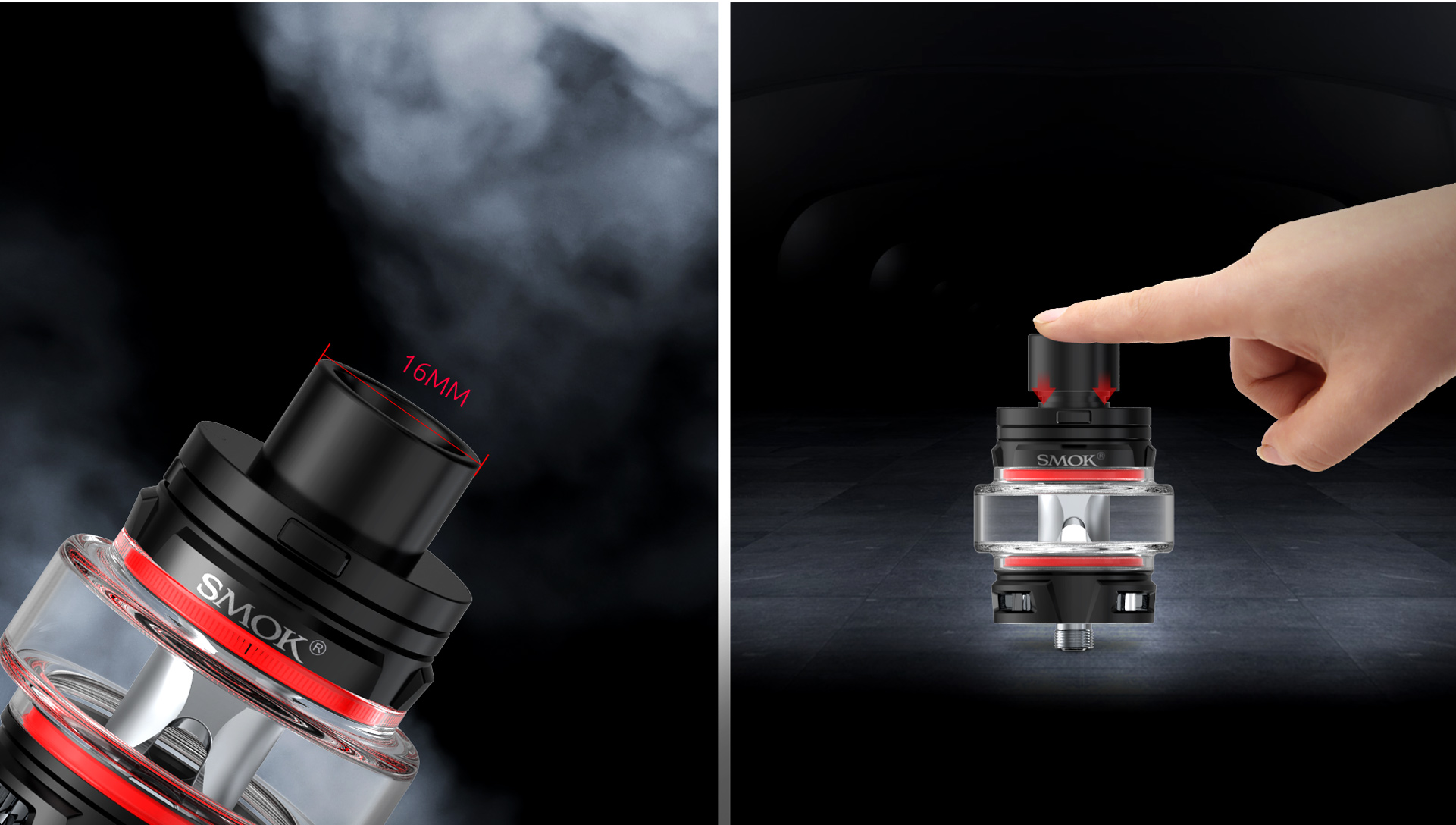 BETTER AIRFLOW SYSTEM
Stick V9 Max also has an upgraded airflow system, compared with the old version , this new one adds one more airflow slot, you can see 3 slots at the base of the tank.
Besides, the width of these 3 slots has been widened, which can help to bring more air in and produce huge vapor.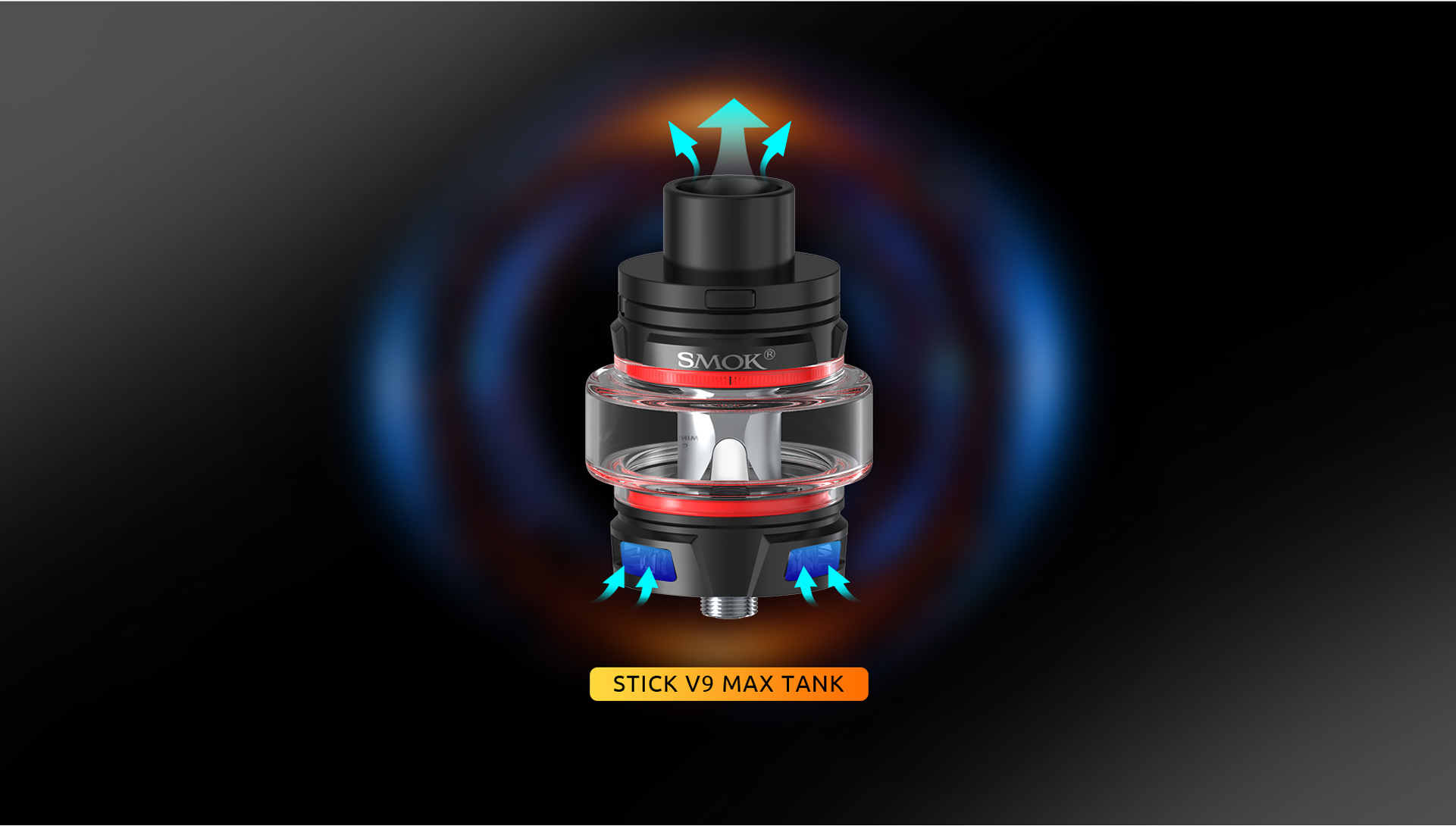 HOW TO FILL WITH E-LIQUID