SMOKTech Alien with TFV8 Baby Beast TC Starter Kit

The SMOKTech Alien Starter Kit features two of SMOKTech's most popular products together in one starter kit. This starter kit includes the SMOK Alien Mod and the SMOK TFV8 Baby Beast. The Alien Mod can fire up to 220 watts and supports nickel, titanium and stainless steel 316 wire in temperature control mode. The Alien Mod features a futuristic and out of the world look with a sleek two tone color design. A detailed operating interface is displayed on the clear OLED display screen which allows you to easily adjust and monitor your settings. The Alien Mod requires (2) high amp 18650 batteries (sold separately). A micro USB port is available for both firmware updates and charging.

SMOKTech is proud to introduce the SMOK TFV8 Baby Beast Sub-Ohm tank which is considered to be the smaller version of the original TFV8. The TFV8 Baby Beast is now a slimmer 22mm diameter size and 3.0ml capacity tank. However make no mistake, the TFV8 Baby Beast still packs quite a powerful punch. The SMOK TFV8 Baby Beast utilizes SMOKTech Baby Beast V8 Core atomizer heads which are designed for both flavor and cloud chasers. These atomizer heads are designed for both low and high wattage builds and features patented dual, octuple, sextuple and quadruple coils for maximum flavor and vapor production. From top to bottom, the SMOK TFV8 Baby Beast is designed for airflow and vapor production. The SMOK TFV8 Baby Beast features a large heating air tube for higher airflow efficiency. The large dual adjustable airflow slots can be adjusted to your own personal preferences. The SMOK TFV8 Baby Beast also features a wide bore delrin drip tip which will produce immense clouds.

The SMOK TFV8 Baby Beast features a beautiful stainless steel construction design with a 3.0ml e-Liquid capacity glass tank. It also features a convenient top fill feature with a large refill slot to help minimize messes. The SMOK TFV8 Baby Beast is perfect for users looking for a well balanced experience of both flavor and vapor production.

Please note, the TFV8 Baby Beast is not compatible with the original TFV8 atomizer heads.


Features and Specs for SMOK Alien Mod:


Dimensions: 3-5/16" x 1-11/16" x 1-1/8"
510 Threaded
Wattage Output: 6.0 - 220.0W
Variable Temperature Control : Nickel / Titanium / Stainless Steel 316
Temperature Control Range:

200 - 600F / 100 - 315C

Resistance Range: 0.06 - 3.0ohm for Temperature Control Mode
Resistance Range: 0.1 - 3.0ohm for Variable Wattage
OLED Display Screen
Detailed Operating Interface
Zinc Alloy Construction
Requires (2) High Amp 18650 Batteries (Sold Separately)
Firmware Upgradeable
Micro USB Charging Port
Includes Screen Protector
Please note: Temperature control requires the use of nickel, titanium or stainless

coils

.



Features and Specs for SMOK TFV8 Baby Beast:


Dimensions: 2-1/16" x 7/8"
Diameter: 22mm
510 Threaded
3.0ml e-Liquid Capacity
Top Fill Design
SMOK Baby Beast V8 Core Atomizer Heads for Variable Wattage
Larger Heating Air Tube for Higher Airflow Efficiency
Large Dual Adjustable Airflow Slots
Improved e-Liquid Refill Slot for Easy Refills
Wide Bore Delrin Drip Tip
Large Central Airflow Chamber
Stainless Steel Construction
510 Drip Tip Compatible
Includes (1) V8 Baby-Q2 Core 0.4ohm Dual Coil Atomizer Head (Pre-installed) (Designed for 40 - 80 Watts)
Includes (1) V8 Baby-T8 Core 0.15ohm Octuple Coil Atomizer Head (Designed for 50 - 110 Watts)
Optional V8 Baby RBA Head (Sold Separately)
THE KIT INCLUDES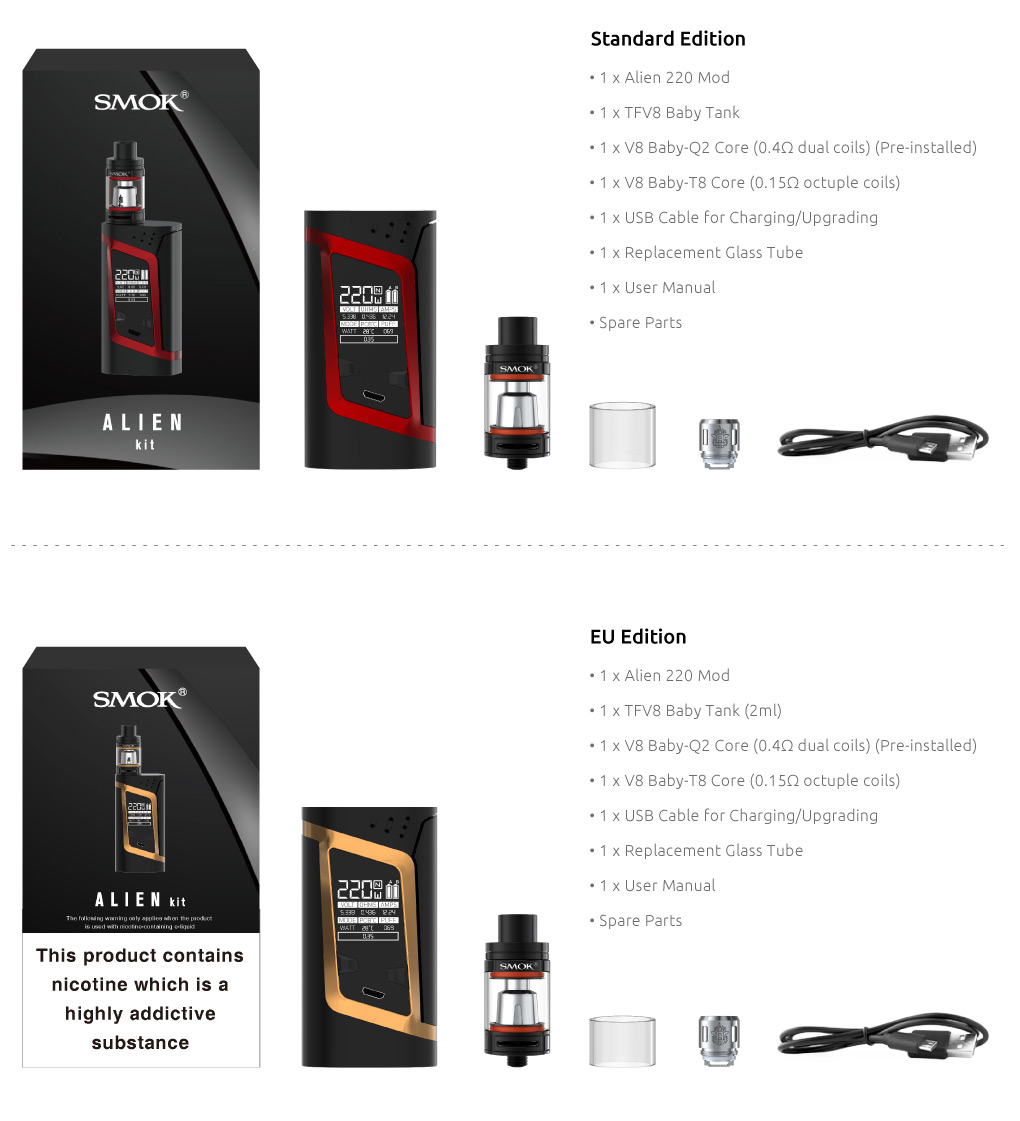 SPECIFICATIONS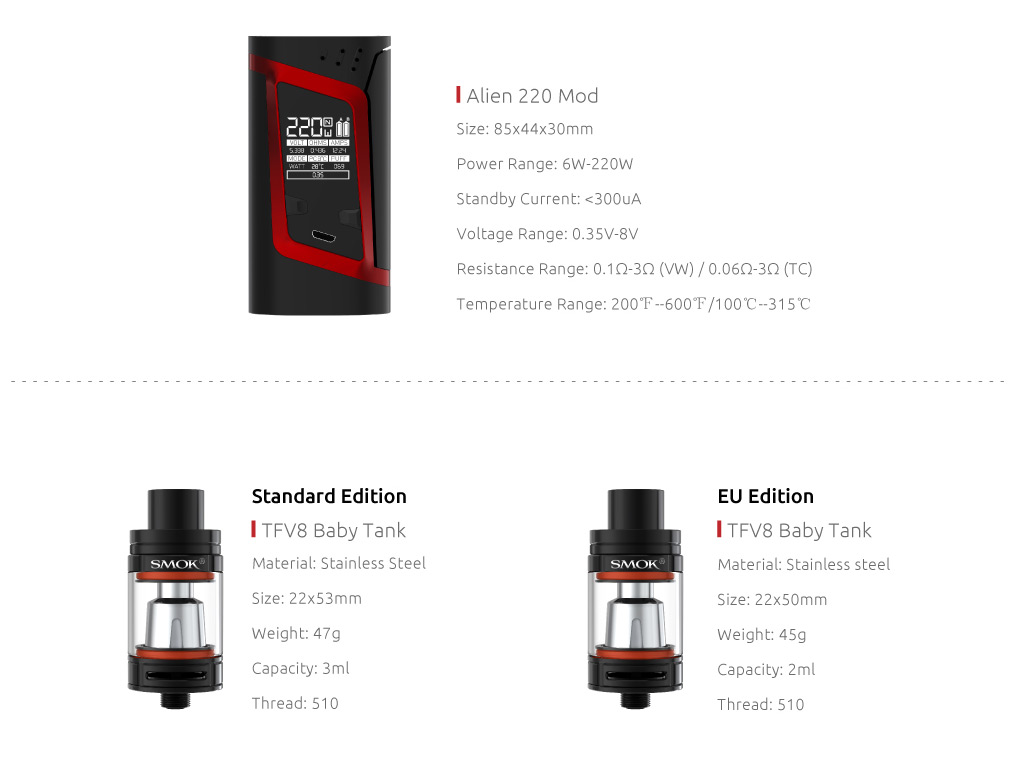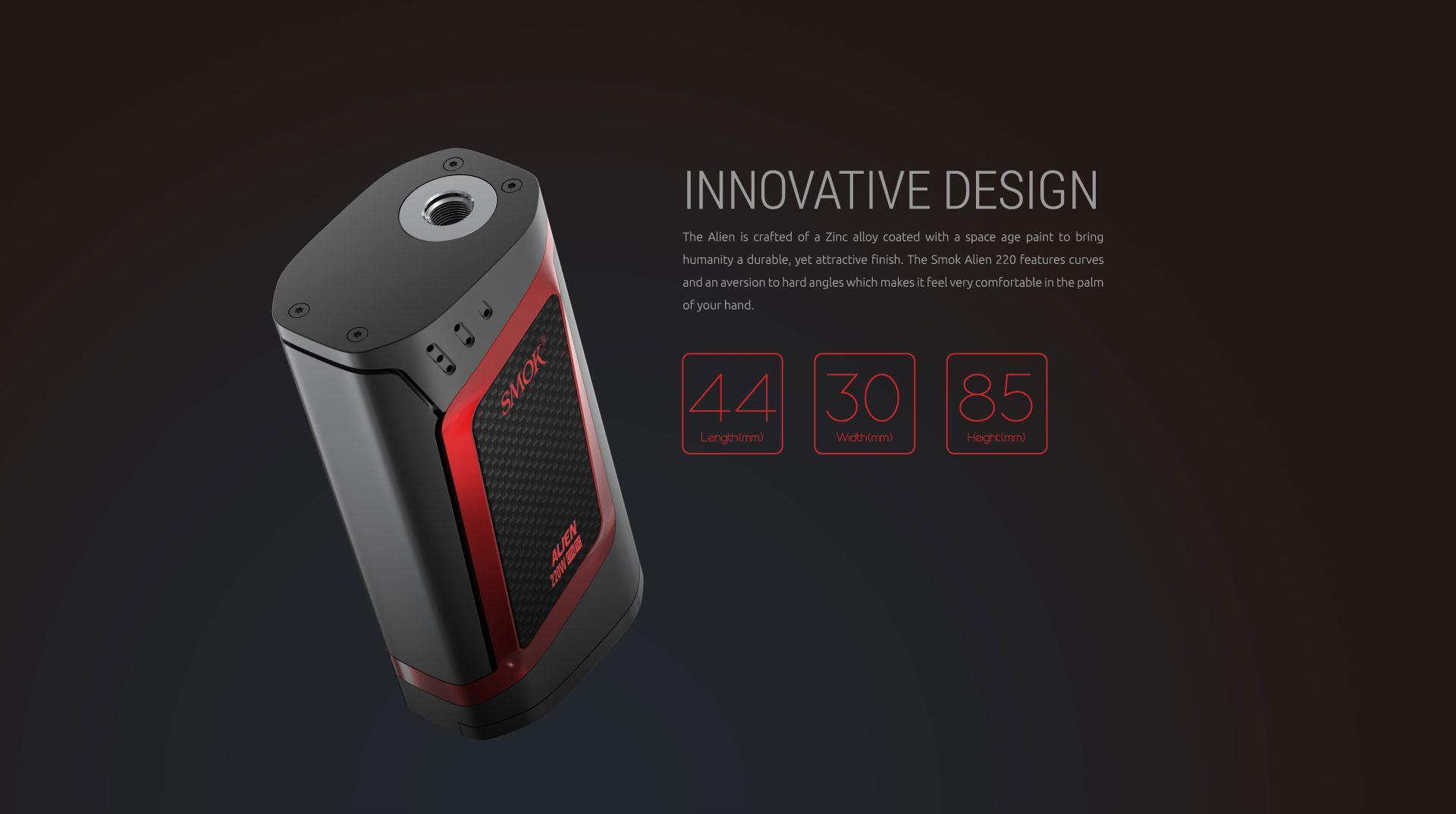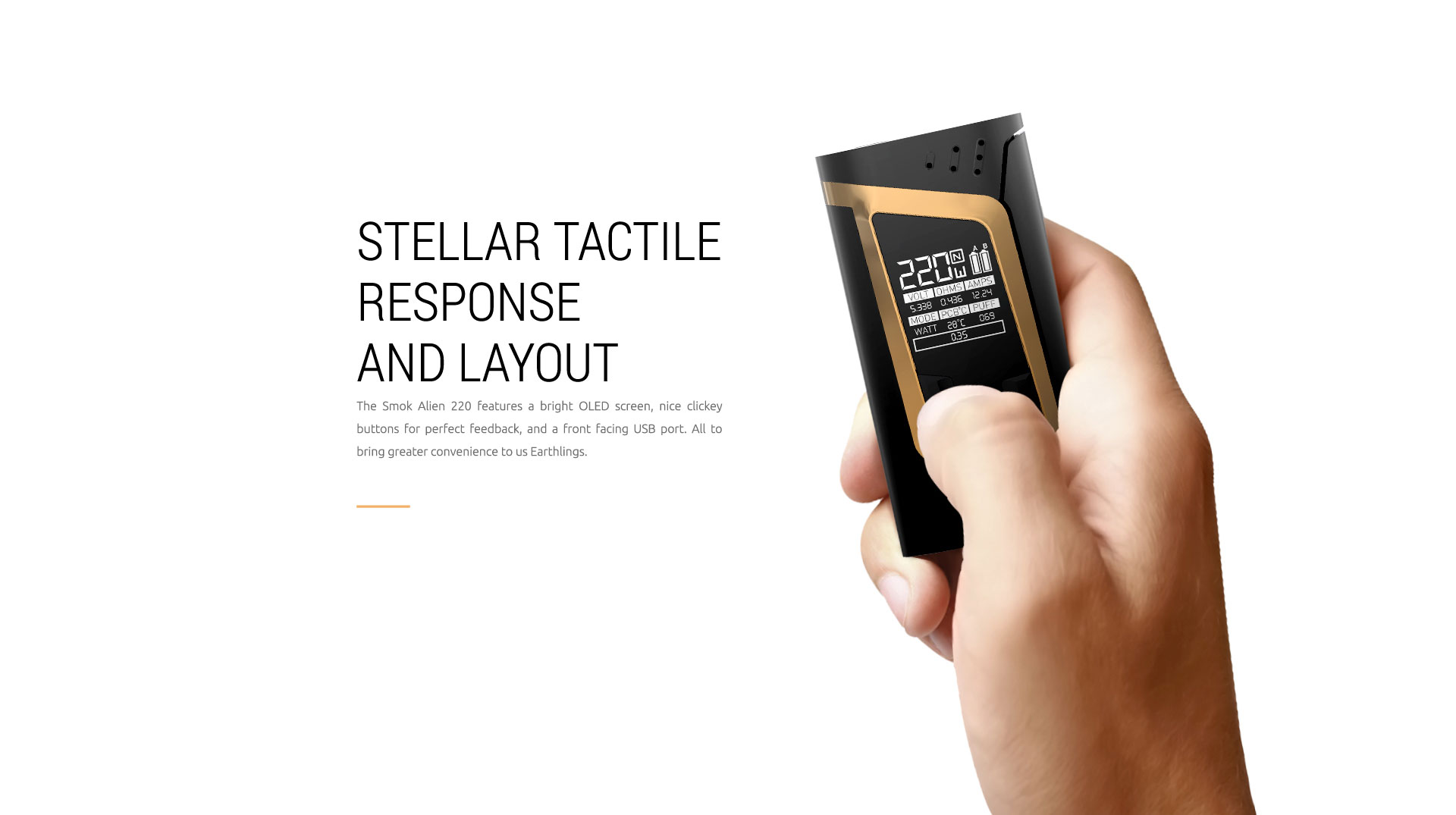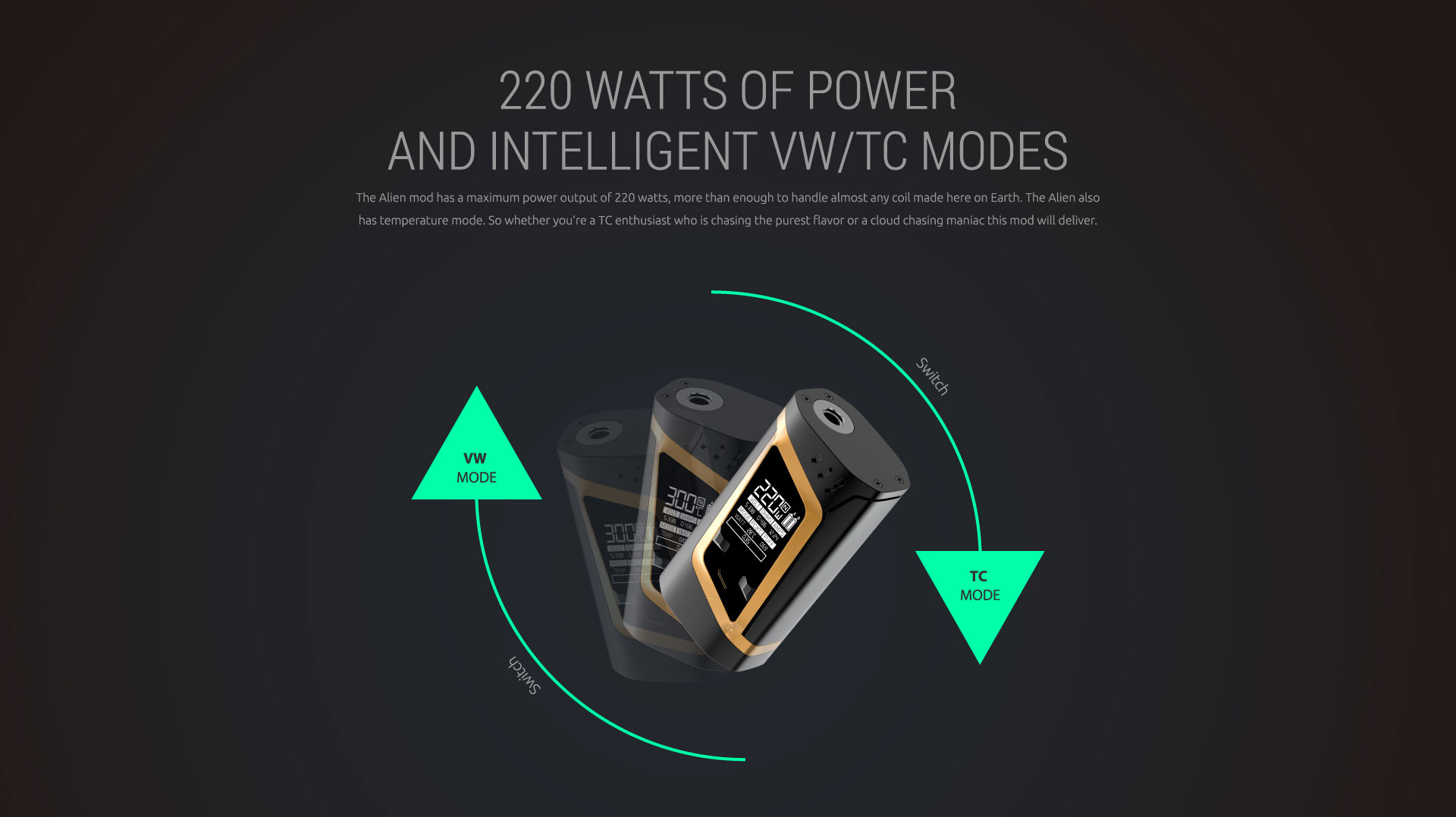 MORE DETAILED VAPING DATA
The clear and precise OLED screen offers an entirely new operation interface. More vaping data for
you, such as VW/TC MODE, vaping effect, voltage, battery life, resistance value etc.
Tips: There is a transparent protective layer on this side, you can rip it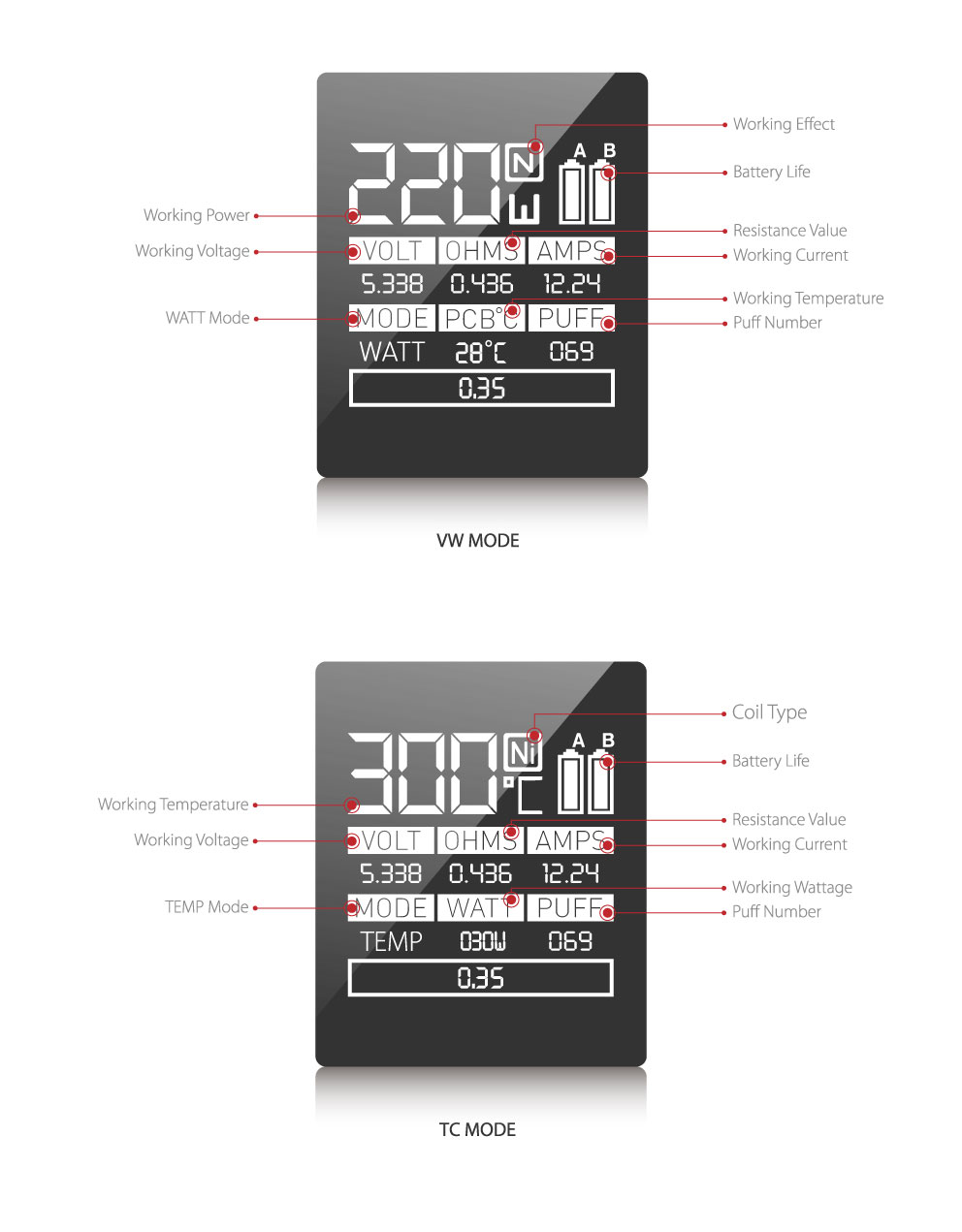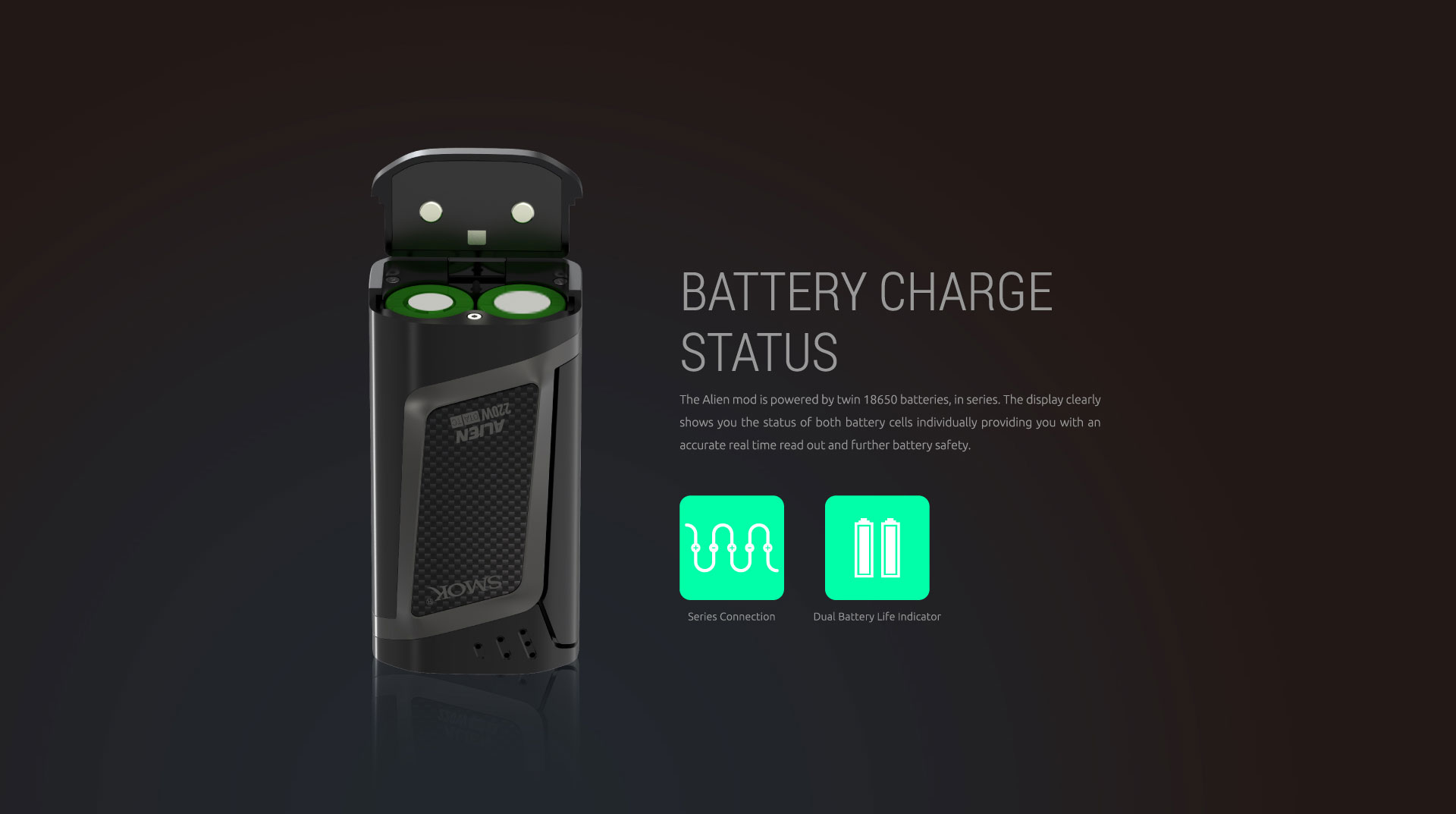 SPECIFICATION OF TWO
EDITIONS FOR ALIEN MOD
There are A and B two versions of Alien220 mod with the same function as for its improvement of
MCU. Edition A will display V1.x.x (newest is V1.2.11) when powered on, while edition B will display
VB1.x.x (newest is VB1.0.2). Please make sure the device version and download the corresponding
version before firmware upgrading, for A and B version is totally different and cannot be employed
universally. (You can brush up the device with the correct version if incorrect version is upgraded, and
unmatched firmware upgrading is not recommended as wrong update can result in a brick device,you
can flash your VB version Alien by
http://www.smoktech.com/support/upgrade/toolsandfirmware/ispalien )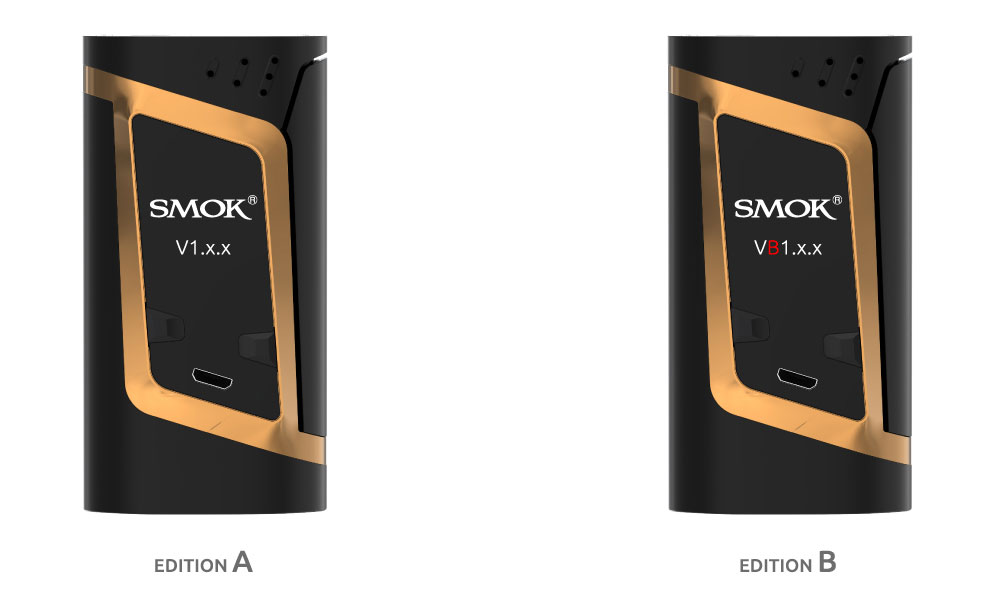 COMPONENTS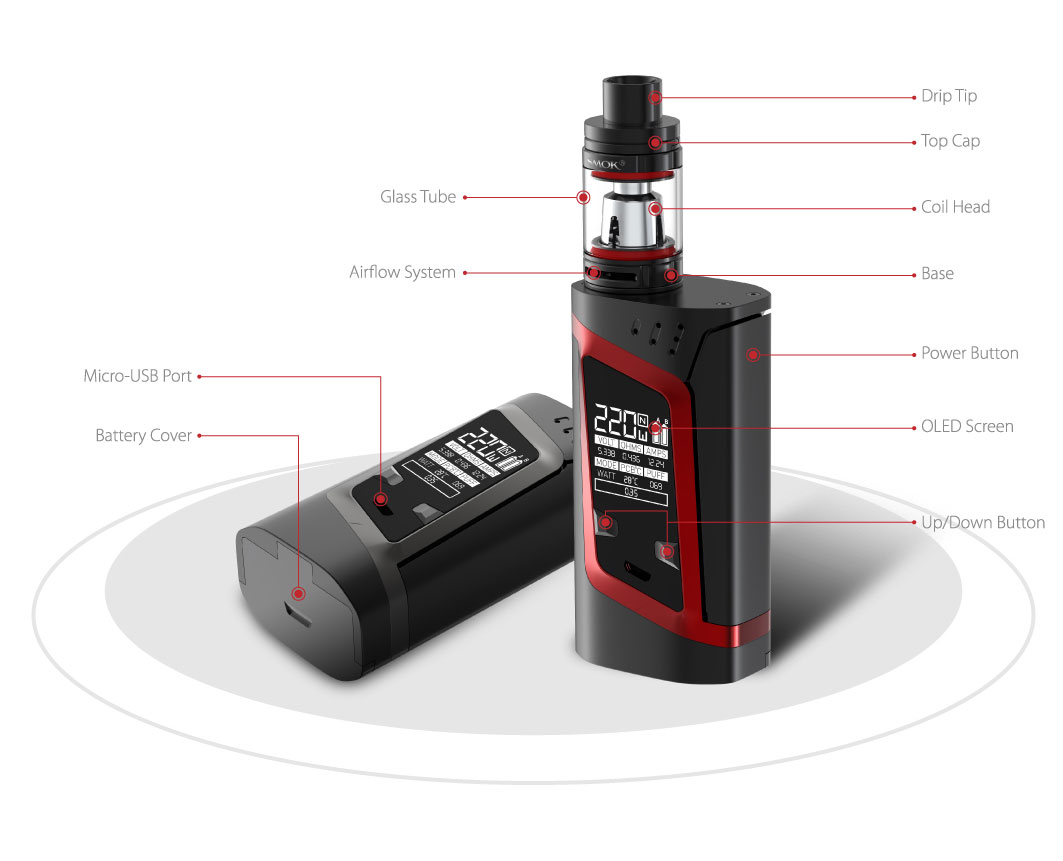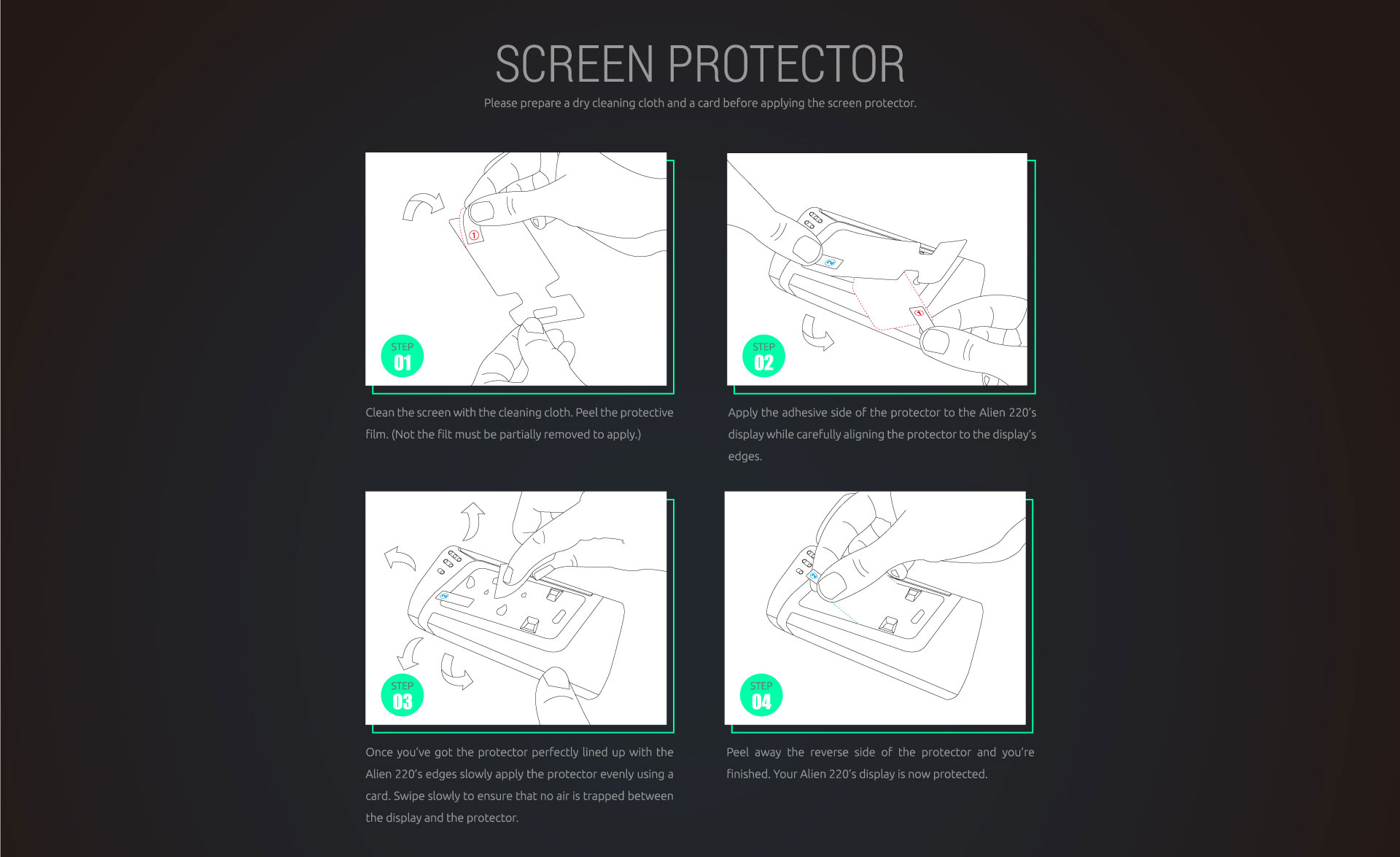 UPGRADE YOUR ALIEN MOD
Alien Edition A upgrade link
Alien Edition B upgrade link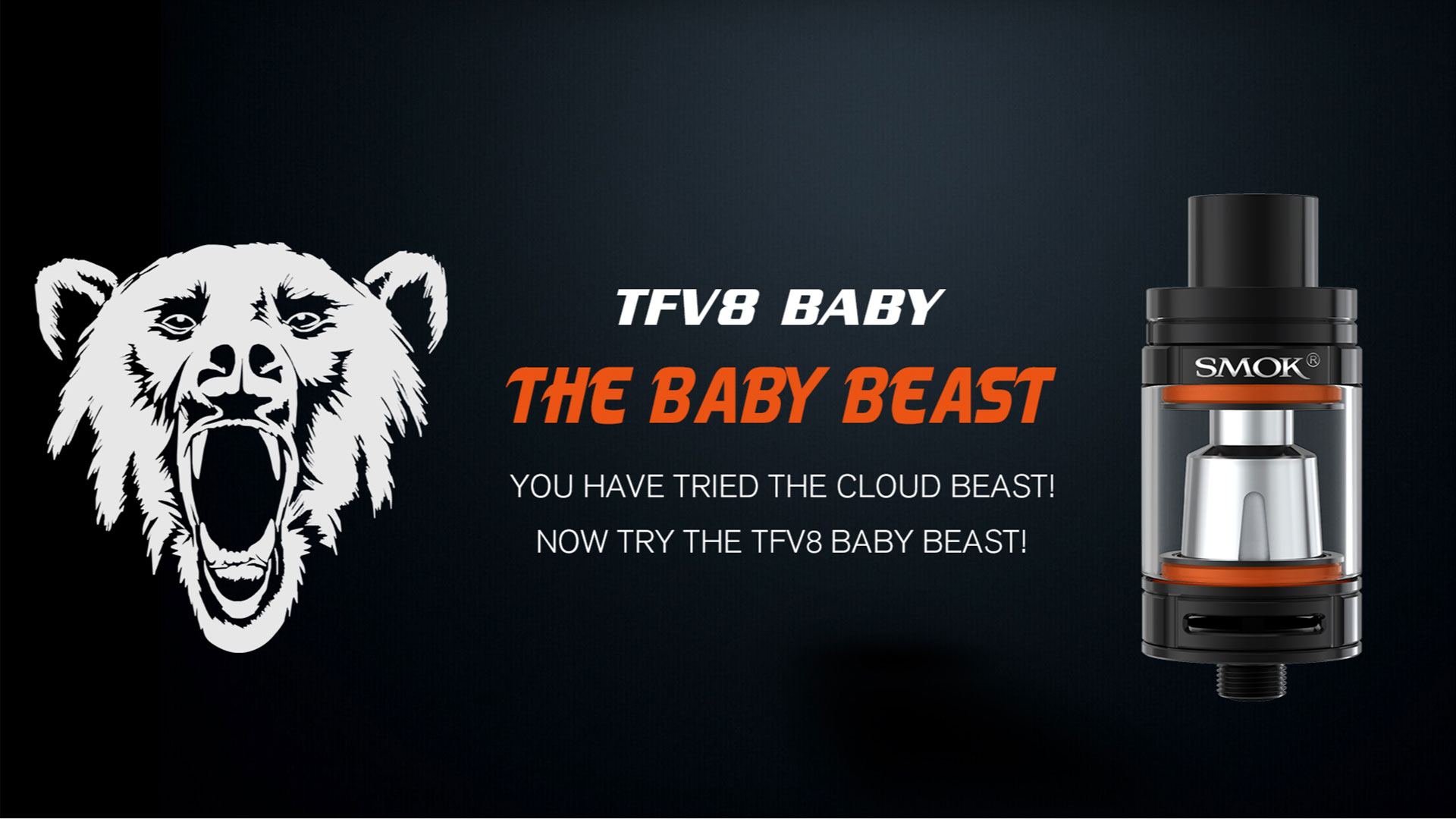 ADJUSTABLE AIRFLOW
SYSTEM
Bring you an extremely open draw. Airflow can be adjusted freely by turning the ring at the base of
atomizer.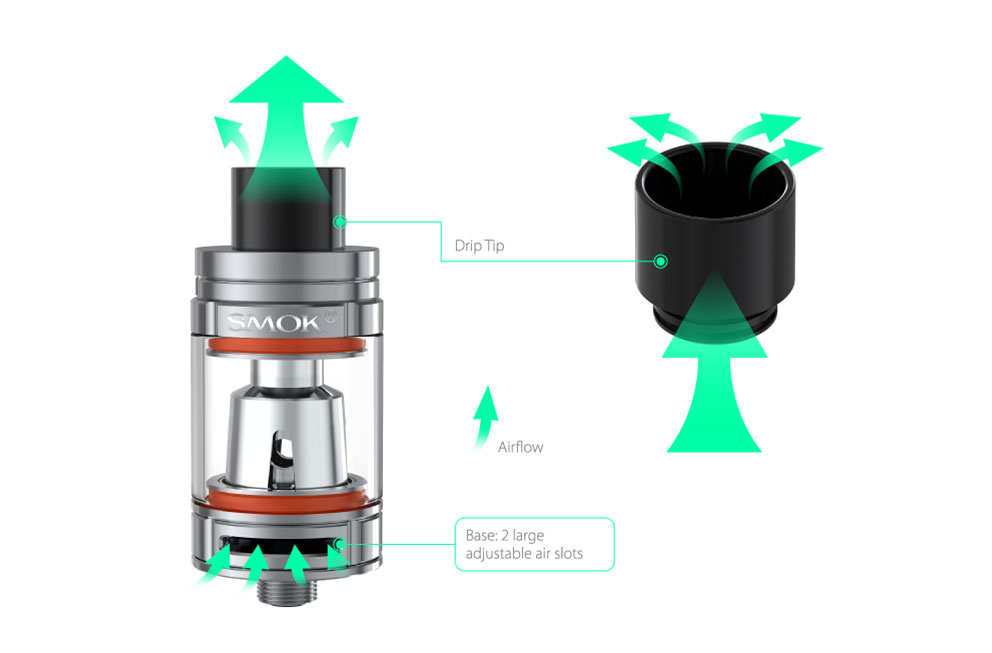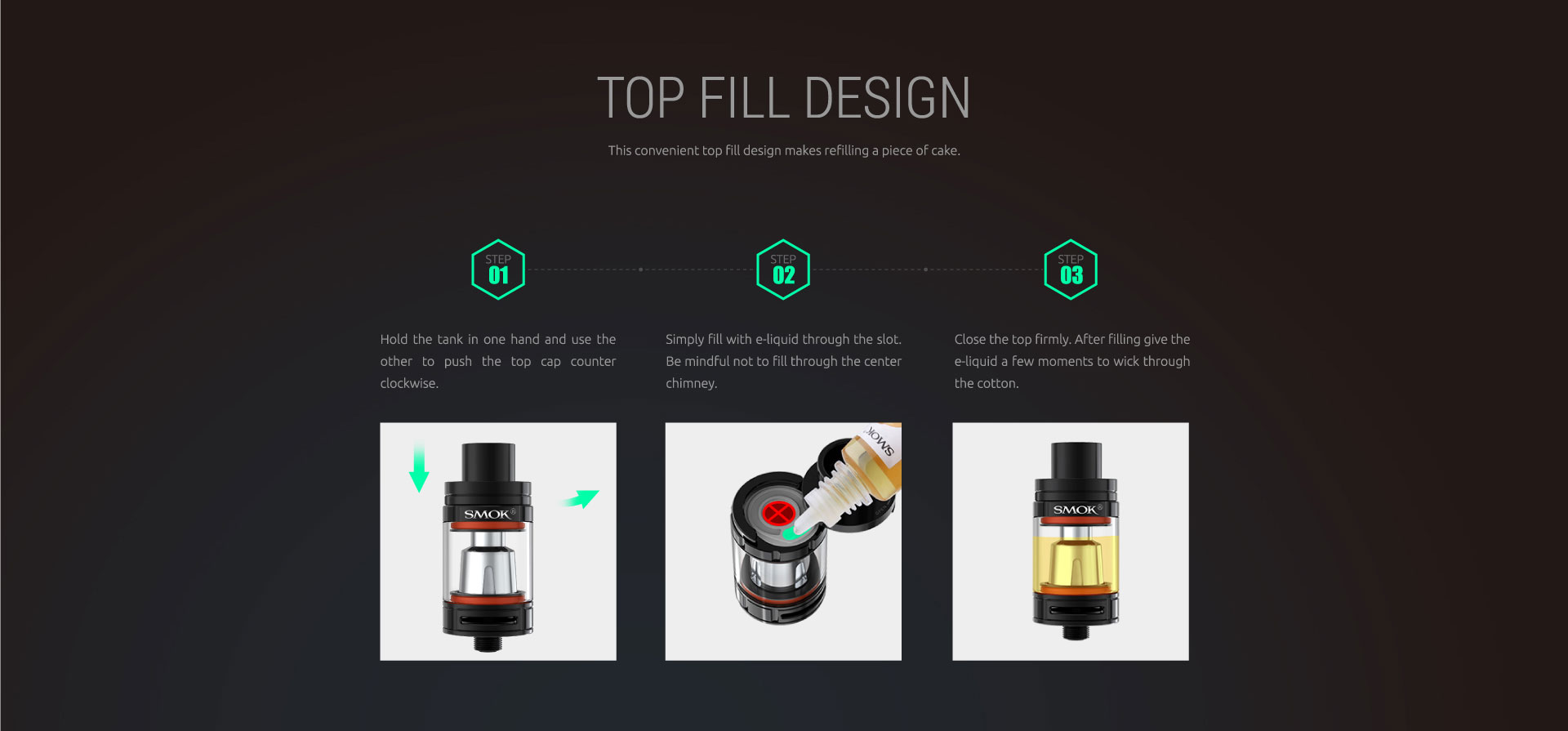 BUILDING THE RBA
1. Be sure your hands are clean.
2. Disassemble the RBA deck.

3. Install and seat the pre-wrapped coil. Place the coil between the posts and wrap the ends around
the screws and tighten them to secure the coil. Be sure the coil is fixed in the center and that the coil
is lined up with the airflow hole.Make sure that the coil is NOT touching the base.
4.Clip the excess leads from your coil.

5.Prepare your cotton, not too much but also not too little.
6. Insert the the cotton and thread it through the middle of the coil.
7. Cut the ends of the cotton at an angle, again not too long but not too short.

8. Prime your cotton by wetting it with e-liquid and adjust it's position. (Be sure to check the
resistance of your coil before placing it under load. Furthermore check the coil's resistance
periodically throughout it's usage to monitor for any changes.)