More info
As a massive fan of the "box mod revolution" I was intrigued by the release of the Cloupor Mini 30W. A mod with lower end price and a decent amount of power sounded almost too good to be true. With some interest I decided to bite the bullet and give one a go!

The Cloupor Mini 30W is a variable wattage and voltage box mod produced by Shenzhen Cloupor Technology Co. Ltd based in Guangdong in China, home to a huge number of e-cig manufacturers and tech companies. They occupy a 3000 square metre building housing their own development team and factory. The Cloupor Mini 30W sits alongside their larger mods, the Cloupor T6 and the Cloupor T8.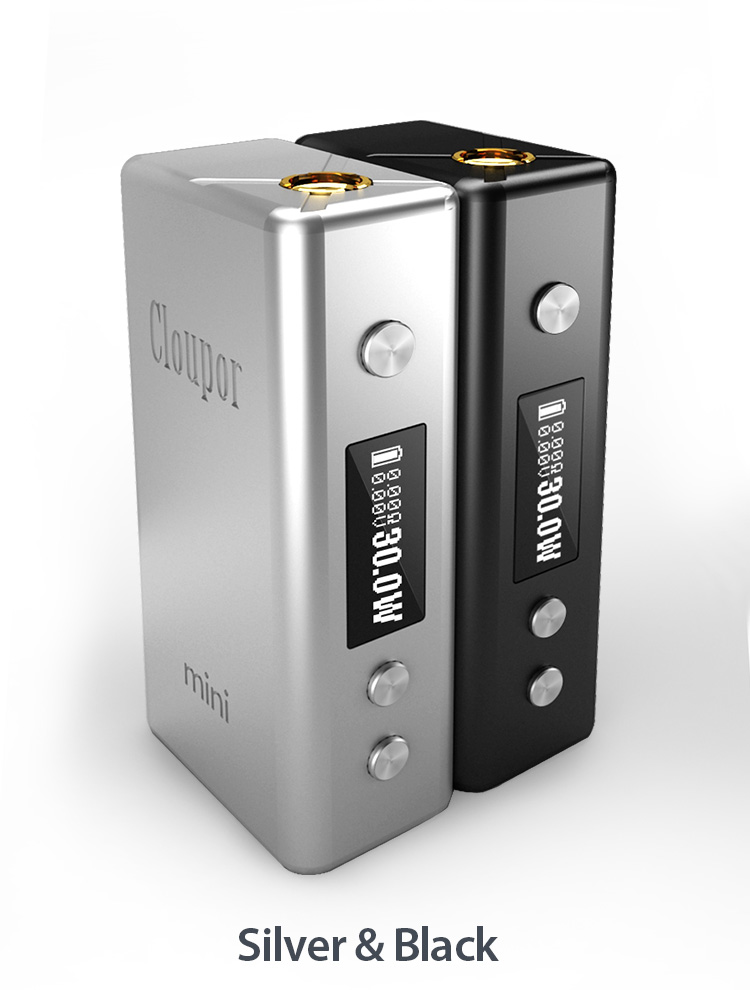 Basic Info

Size: 77.5mm*36mm*22mm
Output power: 7W-30W
Removable 18650 battery
VV/VW Mode can be switched manually
Vaping time counting ( 15S limited protection )
Output voltage : 3.6V—7.0V
Max output current: 10 Amps
Can build on 0.45-3.0 ohm atomizer
Adjustable 510 Pin
Ohms reading calculates to 0.01ohm
Reverse battery protection , no worry about installing battery improperly
Left & Right Mode
Magnet back cover,no need to use screwdriver,more convenient
Instead of screen lock, It can be turned off
Over charge protection
Passthrough Mode
Colors: Black,Silver
Initial Thoughts

The Cloupor Mini 30W comes in fairly decent looking packaging. The wood effect box is quite thick and substantial and lined with foam, a good thing considering the distance it has travelled! My first impressions upon seeing the box was "This looks bigger than I expected" but once I'd opened the box I soon discovered my fears were baseless. The extra room inside the box contains a number of well thought out extras. As well as a clear and well written instruction leaflet, I also discovered a small screwdriver, a small box with spare magnets and screws and a (quite clever) retractable charger cable, i.e it automatically rolls itself back up. A very nice touch that will come in extremely useful when travelling.

Build Quality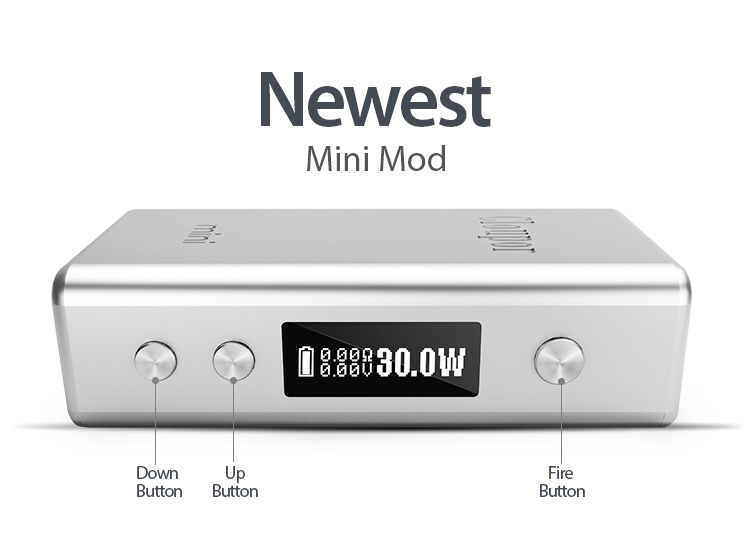 I ordered the black model and was pleasantly surprised to find a well finished, solid feeling box mod with a decent amount of weight to it. As much as I love the iStick, I do find it a bit light for my bumbling grip but the Cloupor Mini 30W doesn't have that problem, especially once the battery is inserted. I was quite surprised to find myself comparing the mod to my VaporShark 30W rDNA rather than the iStick that I would have put in the same category based on price.

Like the VaporShark, you will find yourself holding not a cheap plastic or flimsy feeling aluminium case but a good sturdy case that has been excellently powder coated, giving it a quality feel. The buttons on the side are perhaps not the best but they are far from bad. Again made from metal they add a nice effect to the styling of the mod but my one complaint is that they're not "clicky" enough for my taste. The other issue I have with the buttons is with the screen on the left side (factory default) the buttons appear upside down, with what appears to lower the wattage/voltage actually increasing it. Again no biggy as the screen orientation can be changed by holding the fire and up button for 5 second to flip the screen. This is very easily explained in the user guide that comes in the box and I'm pleased to say that internal flash storage will save your setting even if you remove the battery, so changing it once should be fine. However this could have been easily remedied by changing the button functions on screen flip or putting the buttons horizontally instead of vertically but I'm really being picky here!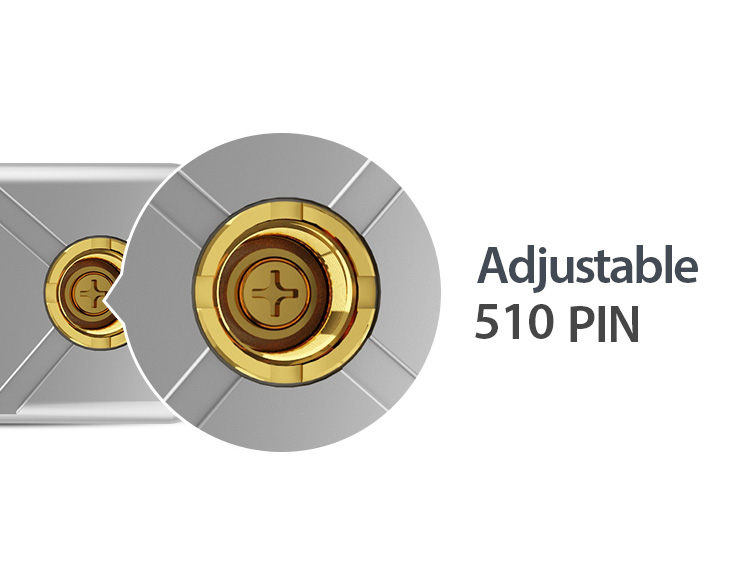 The 510 connector seems quite solidly built and shouldn't be losing it's thread anytime soon (time will tell I suppose) but another gripe here: the center pin is not sprung so you will find yourself having to manually adjust it with a small phillips head screwdriver to ensure a flush fit or even to make sure the atomizer will fire. I've also found that there is a little bit of "slip" on the screw so you will occasionally need to adjust it back up as required as it's not on a reverse thread.

The device features a built in charging port with overcharge protection although the port is located on the base of the mod. Some have pointed out that this might not be the best place but when you consider that it can be used as a pass-through device it seems logical. It all depends on how you intend to use it and personal preference I suppose!

The magnetic battery cover seems to hold pretty strongly. I've not had any issues with it falling off unexpectedly, however, it's easy to remove when required.

The Display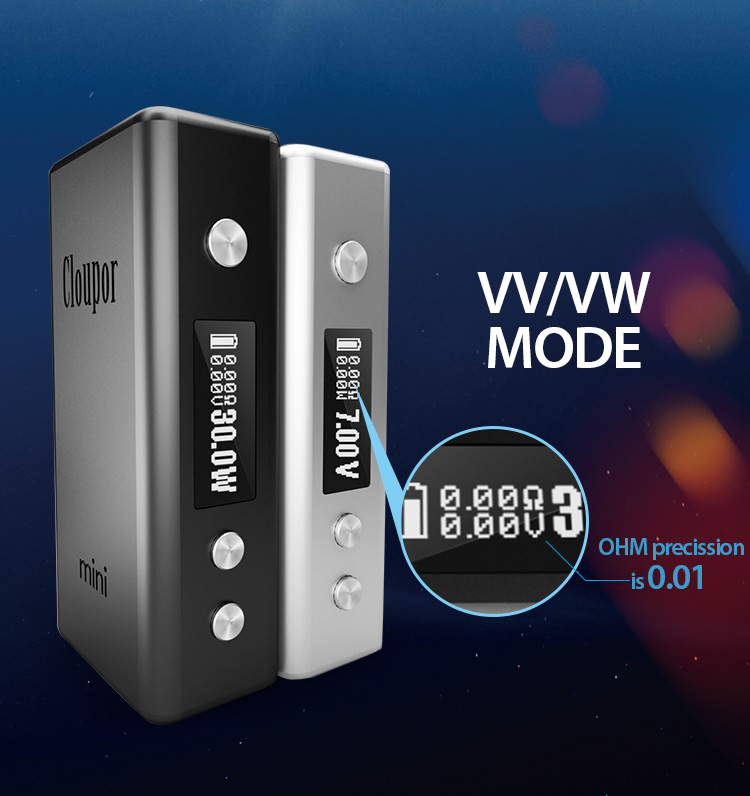 The display screen is on the side of the mod and is excellent! Almost identical to the VaporShark it clearly shows current wattage, voltage, atomizer resistance and battery life but also includes a counter when the fire button is pressed. Not something I make use of but some may find this an interesting feature. It's also worth noting that the atomizer resistance reading and voltage reading are displayed to two decimal places. For example, if I put my atomizer on the VaporShark rDNA it reads at 1.2Ω whilst on the Cloupor Mini I get 1.25Ω. I can't really see the point of the extra decimal place but I'm sure sub-ohmers will tell me that it can be very useful indeed!

The error messages are clear and easy to read and include things like: Check Atomizer; Shorted; Low Power; Too hot and Too low power setting. All excellent features that could save many a vaper a lot of time diagnosing a problem. The device also has the ability to lock the current voltage/wattage (so you don't get a surprise when vaping after it's been in your pocket), auto-sleep mode (the display dims when device has not been active for two minutes to conserve battery power) as well as easily being turned on/off and of course switching between variable voltage and variable wattage mode. Also, worth mentioning is that the button doesn't fire whilst the device is turning on and have have to wait a short while for the screen animation to finish. I've found that when it hasn't been fired for a short while, a second of firing before use helps get the vapour flowing but once it's fired once it seems fine.

Conclusion

Is the Cloupor Mini 30W good value for money? Most definitely! This is one of the best low cost mods I think I have ever bought. The fact that I find myself comparing it to the VaporShark that sits around £100 more expensive says it all really. I think (and hope) that we are really starting to see third generation mods coming to the masses here, providing quality equipment at affordable prices. Is it as good as the VaporShark 30W rDNA? No, of course it isn't but it's not far off!


The final thing worth noting is that the mod does not come with a battery installed so you will need to make sure you have a spare 18650 or buy one at the same time. Remember to think about how you will be using it and ensure that the battery is of a good quality and supports the kind of output that you demand, especially when using builds of less than 1Ω.

https://www.youtube.com/watch?feature=player_embedded&v=gdiDlzVgfuE