1 x H-Priv TC MOD Box (220W)
1 x Micro TFV4 Tank(22mm) / 2.5ml, 3.5ml
1 x 0.3ohm Micro Fused clapton core (pre-installed)
1 x 0.25ohm Micro SS Dual core
1 x Replacement XL glass tube
1 x Tank extension adapter
1 x Red Smok vape band
1 x USB charging/Upgrading cable
1 x User Manual
Features:
Max 220W power
TC/VW Modes
Red Triangle design
Magnetic battery cover
Adjustable Initial Resistance
Easy to read OLED display
Ergonomic Design
Multiple Protections

Intelligent atomizer recognition
Puff monitoring system
12 seconds cut-off
Short circuit protection
Over-heat protection
Low battery Warning
The first thing that leaps out to the eye about the H-Priv box mod is the aesthetic of the case design. While slightly smaller than some of its dual-18650 powered counterparts, the zinc alloy rectangular case (available in silver, white, or black) has nicely rounded edges and a striking color contrast. Rather than a typical firing button, the H-Priv uses what SMOK call a plastic "red triangle design" firing bar that runs almost the length of the mod. The addition of a pull-out battery cover at the bottom made of the same red plastic gives the mod the look of a piece of industrial art rather than a typical box mod. Not everyone may like that, but I find the appearance stunning. I liked the side-firing rounded plate of the iStick 120W TC, and I approve equally of the "red triangle" firing bar. No one will ever have to fumble for a small firing button on this mod. For a rectangular design, the H-Priv feels very good in the hand.
In addition, the display screen and up/down adjustment buttons are located on the mod's top plate between the 510 connector on one end and the red firing bar that runs down the other side. Relatively few mods are designed with a top-mounted display, and especially not one of such generous size as the H-Priv. Beyond that, the H-Priv offers menu options for changing how long the screen is illuminated before shutting off (to save battery power) and for lowering the contrast of the OLED screen for a stealthier vape experience. Screen brightness is adequate for indoor vaping, but in bright sunlight? Probably not.
The location of the OLED display on top seems iffy to me. Will it short from leaking tanks or RDAs? I don't know, but I'd think it possible. Also, the tank I used for testing (a Council of Vapor RST) happened to align when screwed on so that one of the air intake slots was directly next to the screen. The small release of vapor from the air intake slot was enough to fog up the screen, and I found it a little aggravating to have wipe the screen with my thumb fairly often. The display screen itself is fine, although I wished it were brighter. Numeral size of the power in wattage mode or the temperature in TC mode is large and easy to read. Even the smaller numbers — for resistance, puff count, voltage, and intensity of ramp-up — are large enough that even my old eyes could read them without difficulty.
Functions, Interface and Performance
Temp Control works with all the usual suspects: Nickel, Titanium, and Stainless Steel wire, in either single or dual coil builds, and TCR values for each wire type are user-adjustable. Both Wattage and Temp modes offer different "outputs" — Max, Min, Hard, Norm, and Soft.
In addition to Wattage Mode and Temp Mode, the H-Priv also offers "Power Mode." The chip will remember 16 different power settings (M1 through M16). I can see how this might be useful for someone who changes tanks and builds often, but it seems almost OCD geeky to me. How does one remember 16 different settings? I still haven't figured out how to set any power other than M1, but that's OK, since I tend to use the mod in Wattage Mode.
Perhaps I will warm over time to the slide-off battery cover, but so far I'm not a fan. The red plastic cover fits into slots on both sides of the bottom plate, and while taking it off is easy enough, putting it back in place after swapping out the batteries requires fairly precise alignment and the application of considerable pressure, which I found slightly annoying.
Also, the H-Priv has a noticeable firing delay. SMOK's engineers may have their reasons for that, but I guarantee that vapers won't like putting up with a firing delay.
I don't have electrical testing equipment. For all the power graphs, I'd refer readers to Phil Busardo or Daniel from DJLsb on YouTube. I don't know if the H-Priv can actually crank out 220 watts, nor do I care. I judge performance of a new box mod in the old-fashioned way, by comparing how it feels to other mods I own, using the same tanks. That's hardly scientific, of course, but close enough for horseshoes. Performance of the H-Priv passed my comparison test with flying colors, but keep in mind that I never asked it for more than 70 watts.
HIGH QUALITY VAPING LIFESTYLE
PRIVATELY MADE FOR YOU
High Quality, High Performance, Upscale Look, High Standard, High-end Lifestyle Symbol.
We focus on creating high quality lifestyle by using superior design in every aspect. Especially to make you feel comfortable at every fire. It just like customized for you privately.
H-Priv, a High Quality vaping lifestyle, Privately made for you.
H-PRIV KIT
H-Priv, which max power can up to 220 watt; the Red Triangle design would help you forget the fire key from now on: holding it, vaping it. Micro TFV4 pairs with two sub-ohm cores, 0.3Ω Micro CLP2 Core and 0.25Ω Micro STC2 Core, which will bring you unexpected taste and huge cloud. Ideal Look, Excellent Taste, Huge Cloud - these will no longer be your imagination after SMOK H-Priv mod meets up with Micro TFV4 atmoizer. Yes, they are the best partner and full of creativity that is beyond your imagination.
WHERE IS THE FIRE KEY?
This is an innovative design! The fire key of H-Priv is based on the design of X CUBE; it combines the inconspicuous fire key with the mod box instead of the cool customizable LED. Then your friends will ask that:"Where is the fire key?"
220W POWER FOR VAPING!
H-Priv mod box has the largest output power of SMOK brand. It is compatible with all atomizers and RTA series atomizers, you can enjoy vaping freely by it!
OUTSTANDING PERFORMANCE
COLORFUL FINISH
In addition to its portable and compact size, H-Priv has a fundamentally improvement in finish. The new paint finish adds a shiny look and soft feel, and is more durable than an oxidized one. What's more, it provides more eye catching colors for you to choose.
NEW BATTERY COVER DESIGN
MORE CONVENIENT AND SAFER
H-Priv battery cover is designed with 8 venting holes and uses injection molding features to make battery replacement easier. The 24k gold plated positive and negative terminals has high electrical conductivity. Along with visible & clear battery installation indication and insulation layer protection, H-Priv is safer to vape.
WARNING
For better usage of the product, please place the batteries into the device according to the correct directions, and please ensure that they are qualified batteries. The wrong battery installation or damaged batteries may reduce the service life of the device or even damage the device. SMOK is not responsible for any damage caused by using the substandard battery.
PERFORMANCES CONTRAST
H-Priv Compared with X CUBE II Watts Mod on the Market.
TC/VW MODES
The maximum temperature is adjustable between 200°F and 600°F (1 00°C-31 5°C), and atomizer resistance is fired from 0.06Ω to 3.0Ω (TC mode), or 0.1 Ω to 3.0Ω (VW mode). H-Priv can give you great freedom!
ADJUSTABLE INITIAL RESISTANCE
As temperature sensing coils tend to be sub-ohm, the poor contact problem can make a big error, in a way that is not evident when an atomizer is being used for wattage control only. This function is designed to ensure your resistance on the load remains the same. And its adjustable range is ±50 mΩ (± 0.05Ω).
EASY-TO-READ OLED DISPLAY
It presents all key pieces of information, including output wattage, output voltage, atomizer resistance and remaining battery life, etc.
ERGONOMIC DESIGN
With two new buttons and an easy menu, the operation will be more convenient directly adjust wattages, temperatures, or switch wattage memory modes by pressing new buttons.
MULTIPLE PROTECTIONS
H-Priv provides multiple types of protections to safe guard against potential risk.
H-PRIV KIT DESIGN SKETCH
The pictures of H-Priv mod box pairs with different color atomizers are as follows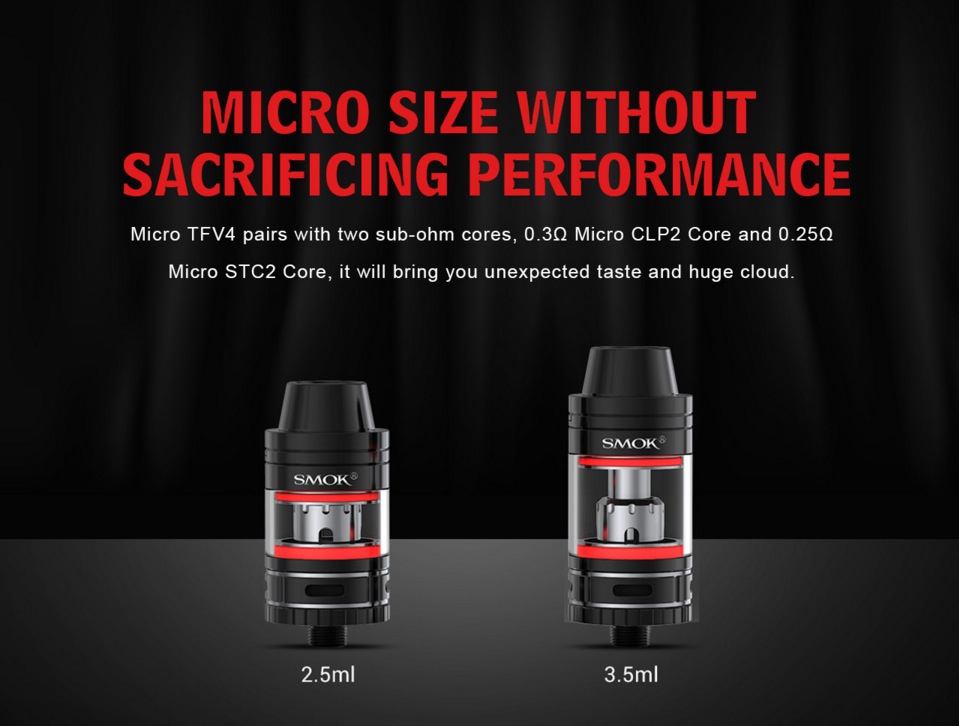 For different vaping needs, we initially offer 4 editions of heating cores: Sub-ohm Edition includes 0.3Ω Micro CLP2 Core and 0.25Ω Micro STC2 Core; Flavor Edition includes 1 .8Ω Micro MTL Core, 1 .2Ω Micro MTL Core and 0.6Ω Micro CLP2 Core; Temperature Control Edition includes 0.1 Ω Micro Ni200 Core; RBA Edition includes Micro R2 and Micro RCA.
Learn more details, please visit the Micro TFV4 Big Family.
3.5ML REPLACEMENT GLASS TUBE & EXTENSION ADAPTER
This kit includes a 3.5ml replacement glass tube and tank extension adapter so that you can enjoy Micro One without having to refill as often.
TOP REFILL SYSTEM
Top refill system makes filling as easy as it gets Leak proof e-liquid slot can significantly solve leaking problem.
ADJUSTABLE AIRFLOW SYSTEM
Bring you an extremely open draw,Airflow can be adjusted freely by either turning the ring on the drip tip or the one at the base of atomizer.